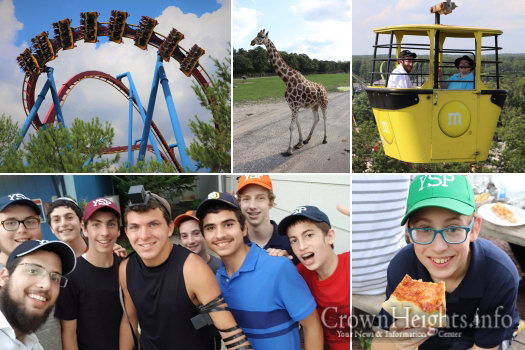 On Thursday, the Talmidim of Yeshiva Summer Program in Morristown, NJ, enjoy a day of roller-coasting around Six Flags Great Adventures. Boasting more than 7 roller-coasters, including the famous tallest-in-the-world 'Kingda Ka', there were ample rides to keep every Talmid entertained. As usual, the Talmidim did not miss this opportunity to do Mivtzoim.
After the first few hours, Talmidim enjoyed a pizza lunch break, and then re-entered the park for some more thrilling fun.
Throughout the course of the day, many Talmidim scoured the 10,000+ people in the park for Jewish people, and put on Tefillin with many people, some for the first time!
Mincha was davened, follwed by a deli-sandwich supper and then the final 2 hours of fun in the park, as the lines shortened and Talmidim dashed from one ride to the next, ensuring every ride was covered. Those lucky enough even picked up some prizes in the arcades.
The day ended with Maariv, Donuts, the ride back, and then a very late lights out; by the next morning all were ready for another action-packed day at YSP.
Photos by Avi Eskinazi for yspmorristown.com