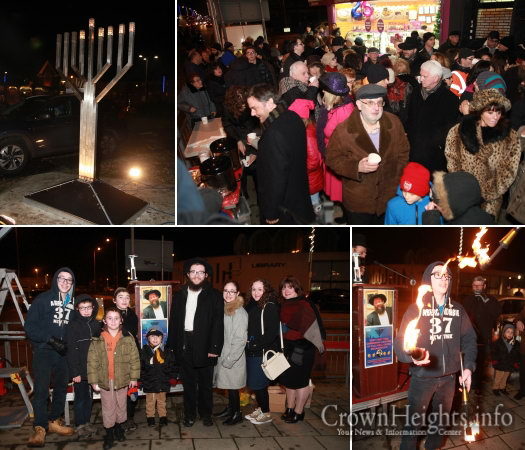 Chabad of Northeast London & Essex rejoiced this Chanukah by holding six separate public lighting ceremonies across the borough, which collectively drew in close to 2,000 people to the events. Each event was special, however, this year for the very first time, a new menorah was made and kindled with a special ceremony on the 5th night dedicated to the treasured memory of their fellow Shliach, Rabbi Moshe Muller, OBM, who tragically passed away suddenly on Rosh Chodesh Iyar.
The Menorah lighting events began with the ones in Chigwell, Loughton & Buckhurst Hill, all led by fellow Shluchim Rabbi Odom and Henny Brandman, followed by Epping, Fullwell Cross and lastly on the last night at the hub, where the first public ceremony was held some 30 years ago under the Head Shluchim to Essex Rabbi Aryeh MBE and Devorah Sufrin.
The special menorah for Rabbi Muller was built by Mr. Alan Grant, driven by his son Hadley, designed by Mrs. Marian Myers together with Yitzy Muller and electrics supplied by Mr. Aryeh Leib Levinson.
The ceremony was led by Rabbi Aryeh Sufrin MBE, who delivered a special tribute to his colleague for 21 years in the Ilford Chabad House and its surrounding areas, attracting a crowd of well over 300 strong, including local Rabonim and local Councillors of the Borough.
Mrs. Brocho Muller, together with her dear family, was in attendance. In addition to a tribute paid by Rabbi Sufrin, a tribute was made by Cllr. Alan Weinberg, former Mayor of the London Borough of Redbridge and dear friend to Chabad for over  three decades, actively involved in seeking permission for our public menorahs being placed in public thoroughfares.
Refreshments including hot drinks, latkas and doughnuts were distributed, as well as chocolate coins distributed by the rabbi to all the children in attendance.
The evening concluded with a delightful, upbeat juggling display by one of Rabbi Muller OBM's dear sons, Yitzy, coupled with music and dancing.
Says Rabbi Sufrin MBE, Exec. Director of the event: "Rabbi Muller's sudden passing continues to be a great loss to many in the wider community. This Menorah is a befitting tribute to a Shliach that borough so much light to so many in need."
A sefer Torah project has now been launched to coincide with his first Yarzheit IYH. To participate please visit: http:/virginmoneygiving.com/Rabbimullersefertorah.