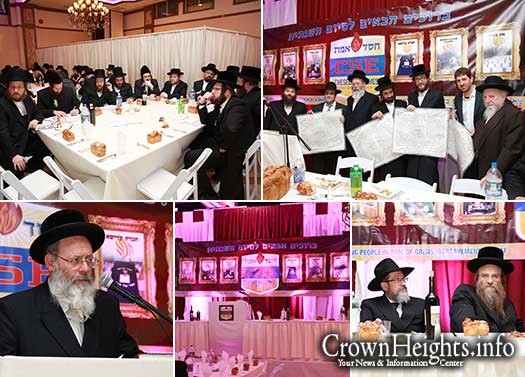 Over 150 volunteers of Chevra Kadisha Chesed Shel Emes gathered Monday evening for an evening of appreciation and Siyum Mishnayos for the many Mes Mitzvos the organization had brought to Jewish burial.
Taking place in Boro Park, over 150 volunteers filled the Beis Esther ballroom where they sat down for a meal while hearing words of Chizuk and blessings from Rabbonim.
Together, they completed learning Mishnayos in honor of the souls of those they Chesed Shel Emes was able to bring to a Jewish burial, of whom many would have been buried in potters fields – or worse, would have been cremated C"V.
At the event a number of volunteers were honored for going above and beyond in their holy work, including the leader of the Crown Heights chapter of Chesed Shel Emes Aron Hershkop.
Chesed Shel Emes is an organization which works to prevent the desecration of the deceased and helps bring them to a proper Jewish burial. Their volunteers rush to scenes of crimes and crashes to diligently follow the Jewish laws of burial. They maintain their own cemetery in upstate New York in order to mitigate the massive costs in bringing those to proper burial.
To support Chesed Shel Emes's vital work, or to learn more about the organization visit their website at ChesedShelEmes.com