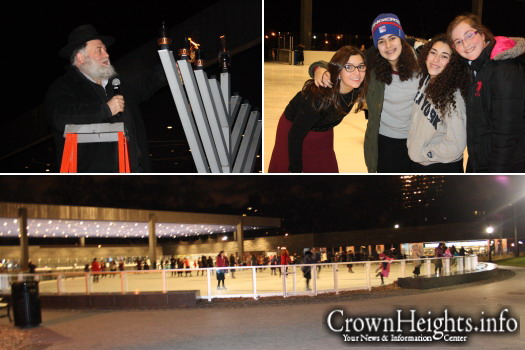 The air was crisp, a wintery breeze caressed the air as the crowds slowly gathered around the strangely-shaped aluminum structure – strangely-shaped only to someone who has never seen a menorah before. To this crowd though, it was a familiar and heartwarming sight.
On the third night of Chanukah, women of all ages gathered for a grand Menorah Skate in Prospect Park, hosted by Aliya Girls. Everyone excitedly laced up their skates and got on the ice, taking cozy breaks inside for hot drinks and delicious jelly donuts – the classic holiday treat.
With music playing and spirits high, everyone paused for a Menorah lighting ceremony performed by Rabbi A. New, a supporter of Aliya Girls and the inspiration for the Menorah Skate. The joy and light of Chanukah was felt deeply by all. Sheva, a participant said, "This is such a beautiful event, it's so nice to be able to go out and do something fun and a bit different with my mother on Chanukah,"
"We are very pleased with the turnout" said Mrs. Chaviva New, Director of Aliya Girls, as she handed out a doughnut, "We are happy we were able to provide a fun girls night out for mothers, daughters and friends in our community."
Aliya girls would like to thank Shulie Mathless, Chaya Bronstein, Henya Bloom, Chaya Silberstein, Yehudis Cohen and Boonya Lasky for all their help, and to Shneur Fridman for providing transportation. Aliya Girls thanks all the people from the Crown Heights, Flatbush and Borough Park Communities who participated in the Menorah Skate. We look forward to producing future community events for women and girls.
Founded in 2012, Aliyah Girls is dedicated to providing assistance and support to teenaged and young adult women.