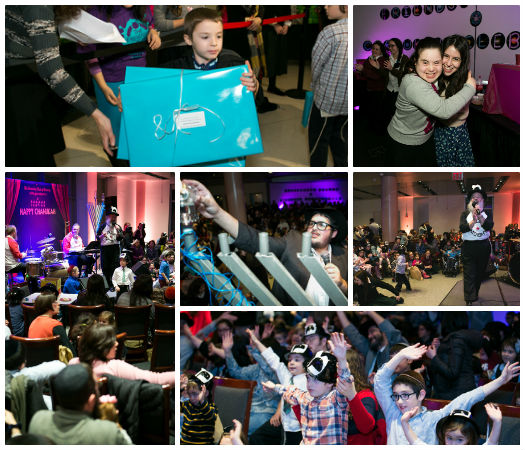 Children with special needs, their siblings and parents gathered on the first night of Chanukah for the Friendship Circle of Brooklyn's annual Chanukah Celebration. The party brought together nearly 500 men, women and children from across the spectrum of the community, all celebrating the holiday of lights – at a place where ALL children are able to shine!
Headlining this year's event, was Uncle Moishy and the Mitzva Men. He had all the boys and girls – and their parents – hopping, jumping never stopping – to all his famous songs and rhymes. The lighting of the Menorah followed, lit by the FC's own, Chazzan Yehuda Reichman, who's rendition of Shehechiyanu and Haneirois Halalu was befitting the  "Surprise Guest Entertainer" of the event.
Chaisidic star Mendy J closed the show, bringing the crowd to their feet with his fast paced songs and unique singing style.
On their way out, each child received a personalized and wrapped Chanukah Gift. New to this year, each child was also received a crisp $1.00 bill as Chanukah Gelt.
The Friendship Circle Toy Drive was dedicated in honor of יששכר בן רויזא ראשע, and sponsored in part by "Toys for Hospitalized Children" a division of the NCFJE, Mr. Eli Weinstock and Family, and dozens of individual gift donations.
The winners of the Friendship Circle's Raffle campaign were drawn at the event:
$10K: Rabbi Avremy Lapine, Shliach Chabad at Mizzou
$1000 – Tzfasman Jewelers: Naftoli Hildeshaim
$500 CASH: Shlomie Rabin
$150 CH Cycles: Meryl Nerenberg
The Friendship Circle would like to thank the sponsors of the event:
Zalman and Pessy Schochat, Dovid and Malki Smetana, Dudi and Chani Farkash, Shai and Brushi Denberg and the Nelco Foundation. Thank you for your ongoing friendship and support!
The Chanukah Celebration would not have been possible without the help of the caring and dedicated FC team; Staff and volunteers headed by Rochel Leah Yarmak and Sheina Chincholker.
Sound and Lighting: Benshimon Music, Artwork: Brush Strokes by Estee, Graphic Design: ZSlides, Decor: Mushki Tenenbaum, Photo: Chaim Perl Photography, Video: RJStudios and Photography by Moishy.