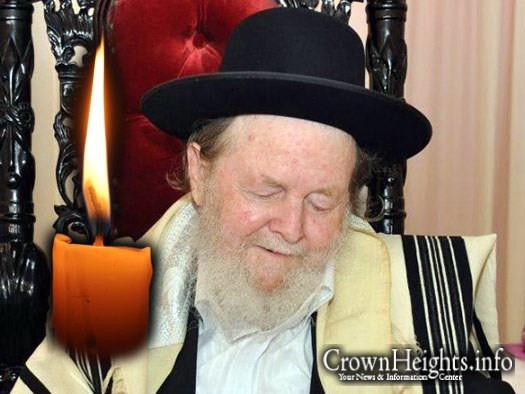 Baruch Dayan Hoemes: Rabbi Chaim Naftali Vaisblum ZT"L, one of the rabbis of Haifa and Rabbi of the religious community in the Neve Sha'anan neighborhood, passed away last night age 83.
He was born in Poland to Rabbi Yaakov Yitzchak and Hana Reizl Vaisblum ZT"L, descendants of Chassidus Gur. He was a seventh generation direct descendant of the Noam Elimelech ZT"L.
For over fifty years he served in the rabbinate in Haifa's Neve Sha'anan neighborhood and Sde Yaakov.
His brother Uri is the Mashgiach in Yeshivas Nachalas Areivim.
His brother in law was the famous Chossid Moshe Slonim, another brother in law is the Rebbe of Tolne, and he was a mechutan of the Rebbe of Slonim. He has neices and nephews who are Shluchim of the Rebbe in Peru and France.
He is survived by his wife Tova (nee Brandwein, granddaughter of the Rebbe of Stretin), and their children Esty Mandelbaum (Bnei Brak, Israel), Tammy Zilbershtein (Ashdod, Israel), Sara Wilhelm (Bnei Brak, Israel), Moshe Pinchas Vaisblum (Baltimore, MD), Uri Vaisblum (Jerusalem, Israel), Dvora Perl Weingot (Ramot Yerushalayim, Israel), Shulamit Ginsburg (Ashdod, Israel) and Yehuda Tzvi Vaisblum (Haifa, Israel).
He is also survived by his siblings Yehuda Tzvi Vaisblum (Bnei Brak, Israel), Penina Slonim (Crown Heights), Uri Vaisblum (Haifa, Israel) Rivka Weinberg (Jerusalem, Israel).
The Levaya took place today in Israel
Mrs. Pnina Slonim will be sitting Shiva just today till an hour before Yom tov, at her home 1421 Carroll St. first floor.
Boruch Dayan Hoemes