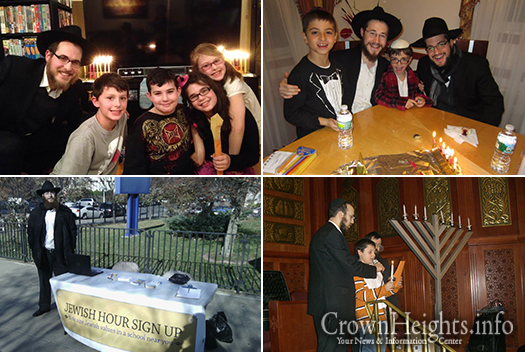 In honor of the upcoming wedding anniversary of the Rebbe and Rebbetzin the volunteers at Released Time, the Jewish Hour program in NYC Public Schools, set out to achieve a lofty goal – get 114 new children to sign up.
These past two weeks have been very busy for the Bocherim and staff of the Released Time program.
Beginning on the 18th of Cheshvan, Released Time started to prepare a special gift for the upcoming wedding anniversary of the Rebbe and Rebetzin: 114 new children who will be joining the close to 1000 children already enrolled.
"The campaign to get 114 children was not an easy one," says Rabbi Zalman Minkowitz, who helps coordinate the program. "Public School parents are hardly aware of their children's right to attend religious instruction hour during Released time. It took the heart and soul of 200 Bochurim to bring the program to the parent's attention and to reassure them that their children will be in a fun and safe environment."
Not wasting a moment, the program volunteers went into high gear. Some groups went out in the early mornings to meet parents and introduce the program to them. Other groups of recruiters waited outside of public schools around NYC during the recent parent teacher conference and were successful in signing up many new children.
"It is really amazing to watch the number of children grow so rapidly" said one of the volunteers, "I did not believe we would get 114 children in just over three weeks. And we got 120!"
But as always, Released time will not be content with this amazing increase. A new campaign was just announced this passed Thursday at a principal meeting to get 115 new children over Chanukah and winter vacation.
To do this, the Bochurim will be visiting many hundreds of Jewish homes, bringing the light and joy of Chanukah to them. These "Bikkurei Bayis" have always shown positive results in bringing more public school children into the program.