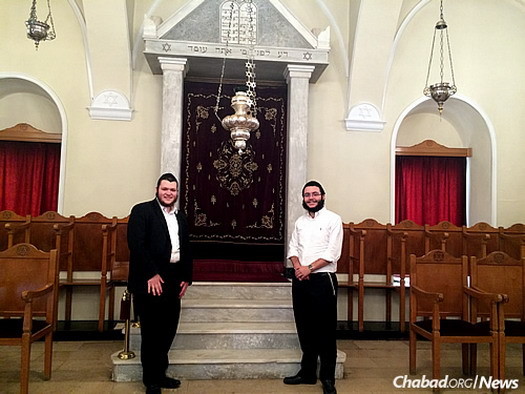 Between visits with Jewish shopkeepers and others, rabbinic students Mendel Wolowik, left, and Mendel Tubul took time for prayer (and a photo) in the synagogue that serves the ancient Jewish community of Larissa.
As Greece faces closed banks, looming bankruptcy and possible expulsion from the Eurozone, Chabad has dispatched a pair of "Roving Rabbis" to bring hope, comfort and support to Jewish communities large and small.
According to Rabbi Mendel Hendel – co-director of Chabad Lubavitch of Athens, Greece, with his wife, Nechama – Mendel Tubul and Mendel Wolowik (ages 22 and 20, respectively) are currently combing the peninsula nation, bringing a Jewish message of hope to many amid what has become considerable concern and worry. Their extensive itinerary includes islands such as Crete, Rhodes and Corfu; and landlocked cities like Larissa, where they just spent two days meeting local Jews, many of whom are shop owners with stalled businesses right now.
"People are not in total crisis here," says the rabbi, who has called Greece home since 2001. "Yes, there are lines at the ATM machines as people try to get out their 60 euro maximums and the banks are closed, but people are not on the brink of starvation.
"However," he continues, "there is no doubt that people are worried. Locals and also tourists are just not sure what tomorrow will bring. They need a listening ear, a reassuring word and the knowledge that they are not alone as the world around them teeters on the edge of the abyss."
The young men will reach out to members of the community, often during one-on-one home visits, spending time with individuals and families, and talking and answering questions as they seek to reinvigorate people's Jewish connections.
Tubul reports that he and Wolowik have found people to be very appreciative of their visits.
"The very fact that we are here—as our predecessors have been for so many summers before us—tells them that some things remain the same, and that they are part of a Jewish community that cares about them," says the rabbinic intern, who has previously served as a "Roving Rabbi" to Destin, Fla.
Their next stop is Volos. The two plan to be in Greece until July 19.
"Roving Rabbis" visit more than 100 countries around the globe and every state in the United States. This year, 350 Chabad-Lubavitch rabbinical students have been dispatched to Jewish communities in Asia, Europe, the Americas and beyond.