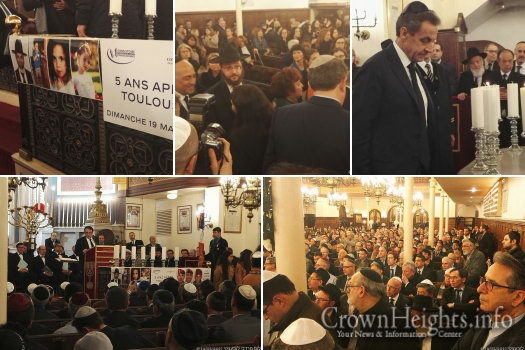 The Jewish community in Paris, France, held a memorial ceremony to mark five years since the brutal murder of a father and three young schoolchildren by an Islamic terrorist in Toulouse.
On March 19th, 2012, a Muslim terrorist named Mohammed Merah opened fire next to Ozar Hatorah Jewish day school in Toulouse, locate in southern France. He murdered 30-year-old Rabbi Yonatan Sandler; his two oldest (out of three) children, Aryeh, aged 6, and Gabriel, aged 3; and eight-year-old Miriam Monsonego, daughter of the school's head teacher. Bryan Bijaoui, a 17-year-old Jewish boy, was shot and gravely injured at the school. It was the worst school-related attack in French history.
The ceremony was held at the Nazareth Synagogue in Paris, and was attended by former French President Nicholas Sarkozy, former French Prime Minister Manuel Valls, and presidential candidate in this year's election Francois Fillon.
Photos by Mordechai Lubecki