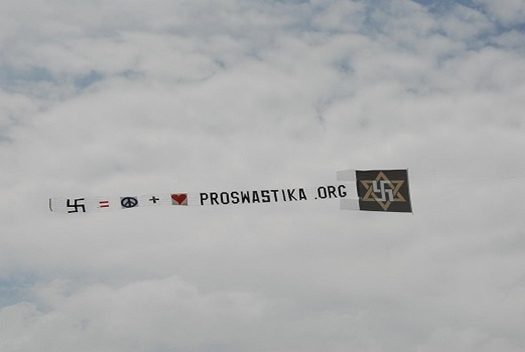 A flight over Long Beach, Long Island, by the group in 2014.
A group has cancelled plans to fly a swastika flag over the beaches of Long Island after a protest by local politicians, which were joined by Shliach Rabbi Eli Goodman of Chabad of the Beaches.
From Newsday:
A group that has flown swastika banners behind airplanes over South Shore beaches has canceled plans to do the same this weekend.
At a news conference in Long Beach on Friday, state Sen. Todd Kaminsky (D-Long Beach) said the group had planned to defy his call to ban the flights.
Kaminsky said he anticipated the flights along the shoreline would resume Saturday to mark something called International Swastika Redemption Day. For the past three years, such flights have taken place off Long Island.