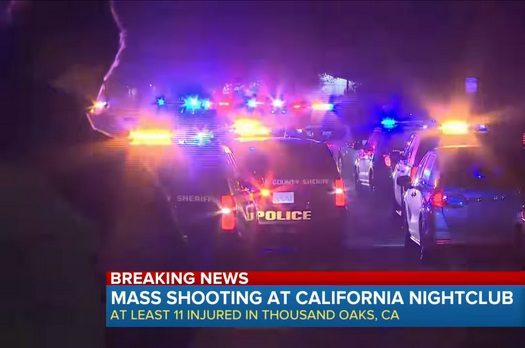 Twelve people have died following a mass shooting in a bar in Thousand Oaks California. Those dead include the gunman, and a local police officer.
The incident occurred late Wednesday night as a large crowd of people from local universities were at the Borderline bar in Thousand Oaks California. A hooded gunman dressed entirely in black opened fire on the crowd killing 12 people and sending hundreds fleeing including some who used barstools to break windows and escape, authorities said Thursday. The gunman was later found dead at the scene.
The dead from the shooting Wednesday night also included 11 people inside the bar and a sheriff's sergeant who was the first officer inside the door, Ventura County Sheriff Geoff Dean said.
The gunman at the dance bar was tall and wearing all black with a hood over his head and his face partly covered, witnesses told TV stations at the scene. He first fired on a person working the door, then appeared to open fire at random at the people inside, they said.
Many more people had more minor injuries, including some that came from their attempt to flee, Dean said.
Sheriff's Sgt. Ron Helus and a passing highway patrolman were responding to several 911 calls when they arrived at the Borderline Bar & Grill in Thousand Oaks at about 11:20 p.m., the sheriff said. They heard gunfire and went inside.
Helus was immediately hit with multiple gunshots, Dean said. The highway patrolman cleared the perimeter and pulled Helus out, and then waited as a SWAT team and scores more officers arrived. Helus died early Thursday at a hospital.
read more at theyeshivaworld.com