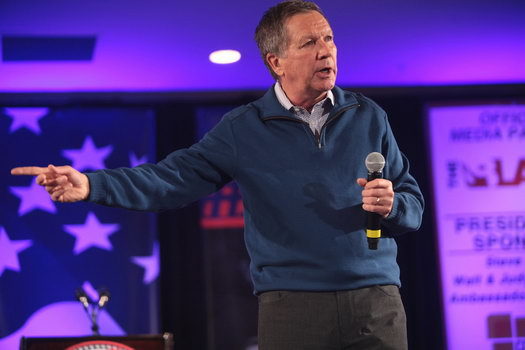 Ohio governor John Kasich
Ohio Gov. John Kasich is leaving the Republican presidential contest, giving Donald Trump a clear path to his party's nomination.
From the Washington Post:
Ohio Gov. John Kasich — who ran as a sunny, moderate "Prince of Light and Hope," but won only his home-state primary — will bow out of the Republican presidential race on Wednesday after a defeat in Indiana, his senior campaign advisers said.
The departure — which Kasich will announce at 5 p.m. in Columbus, Ohio — fully clears the field for front-runner Donald Trump as the GOP nominee. Another rival, Sen. Ted Cruz (Tex.), ended his bid Tuesday night.
Kasich, 63, entered the race with an impressive résumé: 18 years in the House, where he built a reputation as a budget cutter; a stint as a Fox News Channel host; and four years as the popular governor of a presidential swing state.