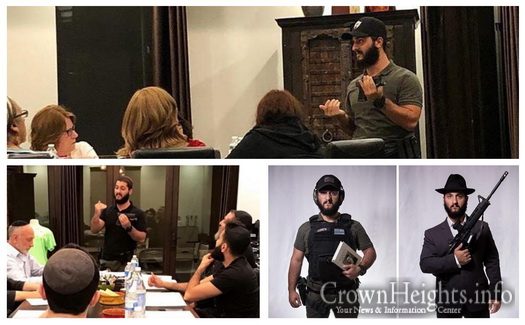 Due to popular demand, NDFT together with The Besht will be hosting a women's only seminar, this evening, on safety and security. Since this past Sunday, when The Tactical Rabbi, Raziel Cohen, gave a class at The Besht about Personal and Home Defense, there has been overwhelming response to have another class for all of the women who could not come due to being at KSCVK and for those who were not yet aware of it.
In recent months, there has been an increase of attacks on members of the Crown Heights Jewish community. Many are looking for guidance and tools to better equip themselves in the face of these unprovoked attacks.
Has it ever happened to you that you leave a l'chaim late at night to go back to your place when, suddenly, on the way, you notice two or three people with hoodies walking towards you and you are unsure if you should move to the other side of the street or not?
If they come up to you, are you supposed to yell, run, or, perhaps, simply act confident? Do you say something? How?
This course is going to cover many topics including:
-How to react to a threat.
-How to be situationally aware.
-How to verbally and physically control a situation.
-Understanding the Criminal Mind.
-Recognize the mental and physical effects of adrenaline.
-How to respond to Law Enforcement.
Don't be a victim. Protect yourself and your family.
Registration is open until the time of the class. This is a women's only event. For anyone looking to attend the seminar, registration is available at 
https://www.ndftraining.com