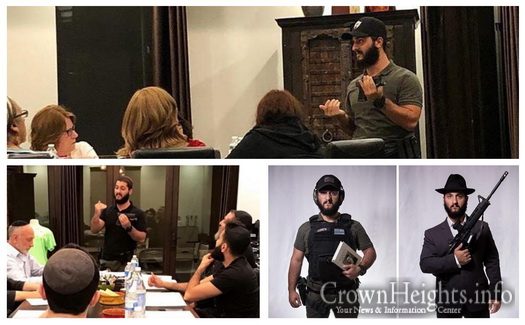 By Yakir Havin
As part of his mission to help people protect themselves from acts of violence, Raziel Cohen of NDFTraining held a Personal and Home Defense Seminar in Crown Heights on Monday, January 28th.
Cohen, Head Instructor of NDFTraining (and also known as 'The Tactical Rabbi'), delivered the class to 15 people, teaching them — amongst other things — how to create a home defense plan, and giving them methods to de-escalate violent situations. Initially scheduled for an hour, the seminar lasted for over two hours due to questions and discussions from the audience.
Due to popular demand, Cohen will be returning to Crown Heights for a repeat session on Sunday, February 10.
One participant of the seminar had the following to say: "The class was interesting, informative, and crucial for every person who wants to be safe. I feel more confident knowing the right ways to react in a potential situation."
While another had this to say "It was really great to learn what to look out for and how to be more observant when walking the streets of Crown Heights. I recommend every person living in crown heights join this class. The teacher was clear, interesting and informative."
But Cohen knows that one class is not enough in the face of the wave of violence that communities around the country have recently seen. "People need to know how to protect themselves. It's no longer an option to watch videos of people being attacked and simply hope that you aren't next. But on the other hand, no one — no one — should fear to walk the streets of their neighborhood. Learning methods of personal safety is a must, and I encourage everyone to do so."
NDFTraining, with Cohen at its helm, is working on bringing the defense seminar to other communities in the United States, with the hope of educating the wider public about how to prepare and protect itself from acts of violence.
This Sunday's class is being hosted by The Besht Center, and co-sponsored by Boruch DuBrow of BSD Coaching and Communications. Registration is open until the time of the class. There will be separate seating for men and women. For anyone looking to attend the seminar, registration is available at NDFTraining.com.