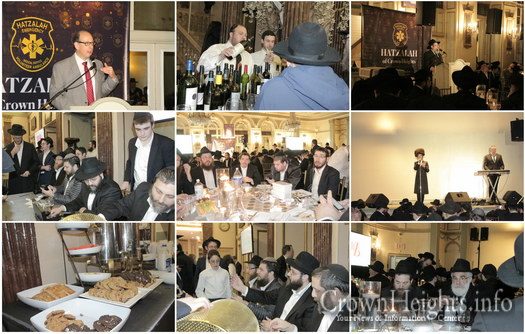 Crown Heights Hatzalahs' yearly auction and symposium saw a full house this past Motzai Shabbos. The community turned out in support of the organization, and helped fund its vital work.
At the event, Hatzalah volunteers, Rabonim, and Doctors spoke to the crowd on issues of health and wellness.
The evening was introduced by Crown Heights Hatzalah coordinator Yossi Friedman, who encouraged all members of the community to learn CPR. He also stressed the importance of having a phone in shul on shabbos, and having an AED in shul for emergencies.
Rabbi Levi Garelik, himself a beneficiary of the lifesaving work of Hatzalah, spoke about the importance of Crown Heights Hatzalah, and how the community involvement is crucial.
Keynote speaker at the event, Dr. Benjamin A. Youdelman MD from Maimonides Medical Center, spoke of his career as a cardio thoracic surgeon, and the advances in medical technology.
The highlight of the night was the raffle drawing for the grand prize of $25,000. The lucky winner of the raffle was Sholom Ber Baumgarten.
The Melava Malka featured a delicious spread of dairy and pareve food catered by Benny Turk of Turk Caterers, a wine bar by Yudi and Mendy Eber of Eber's Wines, and a special performance by Shulem Lemmer rounded off the evening.
Music was provided by Benshimon throughout the evening.
Attendees received a free first aid kit while supplies lasted.