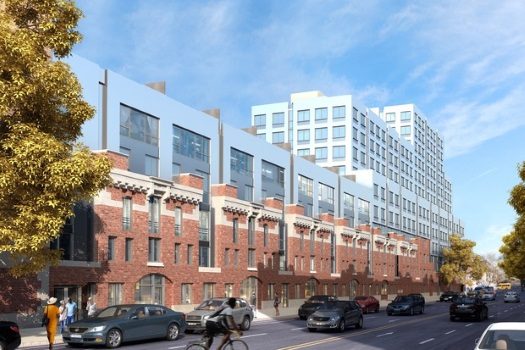 A rendering of the plan to redevelop the Bedford-Union Armory in Crown Heights.
From DNAinfo by Rachel Holliday Smith:
The City Planning Commission on Monday approved a plan to repurpose the Bedford-Union Armory over community protests and concerns about the controversial redevelopment project.
The CPC voted 11 to 1 to give the 540,000-square-foot development a green light as protesters attempted to interrupt the commission's hearing in Manhattan on Monday afternoon.
The plan still needs approval from the City Council and mayor before it's finalized.
Dozens of people opposed to the project chanted throughout the start of the hearing, forcing security staff to move them outside. Two demonstrators were arrested in the process. Jabari Brisport, the Green Party candidate for City Council, and Crown Heights Tenant Union founding member Joel Feingold were led away in handcuffs and issued civil summonses, they told DNAinfo New York.
The CPC voted minutes after the protesters were removed. Before her yes vote, CPC chairwoman Marisa Lago noted the benefits she saw in the plan for the vacant armory, including affordable recreation space and room for nonprofits and classrooms.
"But we know that an affordable community center and office space isn't enough. So, recognizing the dire need for housing, we are pleased that this proposal is leveraging one of our city's scarce resources, public land, to deliver 390 new homes," she said.
Only one CPC member, Michelle de la Uz, voted against the plan, echoing concerns from activists, local elected officials and residents that the armory will not include enough affordable units. Currently, the project plan includes 330 rentals, half of which will be subsidized, and 60 condominiums, of which 12 will be available for purchase below-market, in addition to a 67,00-square-foot recreation center.
"Only 50 percent of the units are affordable on the rental side and only 20 percent on the home ownerships side," de la Uz said. "Given that this is publicly owned land, the community has come to expect more."
The CPC vote in the latest in a series of approvals as part of the Uniform Land Use Review Procedure, or ULURP, needed by the developers of the armory, BFC Partners, before construction may begin.
After the vote, BFC spokesman Sam Spokony said in a statement the group is "committed to providing a new affordable recreation center, affordable office space for non-profits and affordable housing for the Crown Heights community."
Click here to continue reading at DNAinfo.
security is trying to make the protestors leave, but they keep coming in. pic.twitter.com/JxWsogJOht

— Rachel H. Smith (@rachelholliday) October 30, 2017