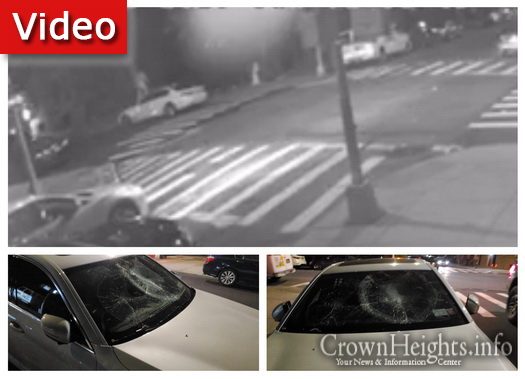 A Crown Heights vehicle became the victim of another act of random vandalism overnight. Video surveillance shows a man hopping onto the hood of a parked vehicle, before putting his foot through the windshield.
by CrownHeights.info
Crown Heights again became a target for vandalism overnight, when a man decided to damage a parked car, seemingly without reason.
Crown Heights Shomrim received a call for a man vandalizing the vehicle on Albany Ave and Union St, but when they arrived, the man had already left the scene.
Surveillance footage from the incident would later show the man acting erratically, staggering around and throwing a city garbage can into the street. The man can be seen crossing the street to the parked car, where he hops onto the hood, and forcefully puts his foot to the windshield and caves it in.
Multiple Shomrim volunteers scoured the surrounding blocks, but despite a lengthy canvas, could not find the vandal.