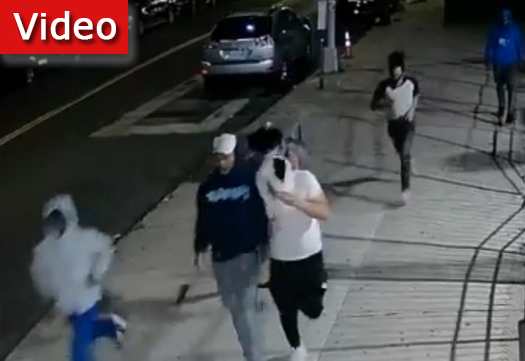 The NYPD has released footage of a group of teens wanted for shooting four people at a vigil in Crown Heights. The victims were rushed to local hospitals where they are in critical condition.
by CrownHeights.info
The NYPD has released footage of what appears to be a group of teenagers alleged to have been involved in a shooting in Crown Heights.
The shooting took place at Sterling Place and Buffalo Avenue around 2:00am Monday morning, as a small crowd sat for a vigil of a friend who had died from an illness. Without warning, a masked teenager began shooting, what witnesses claim were around 8 shots.
People ducked for cover and scrambled inside buildings to get away, while the shooter ran off with a group.
Four victims were reported as being shot. Rasheen Stewart, 24; Jeff McCall, 33; Syeitha Lomax, 49; and Regina Sherrod, 33. The four were shot in the chest, back, hip and leg, leaving them in critical condition. They were rushed to local hospitals.
Police released footage of the alleged attacker, and asks anyone with information to call 1-800-577-TIPS.
🚨WANTED🚨for an Assault on the C/O Sterling Ave. and Buffalo Ave. #Crownheights #brooklyn @NYPD77Pct On 08/5/19 @ 1:52 AM 💰Reward up to $2500👓Seen them ? Know who they are?☎️Call 1-800-577-TIPS or DM us!📞Calls are CONFIDENTIAL! #yourcityyourcall @NYPDDetectives @News12BK pic.twitter.com/StT7ErU1ec

— NYPD Crime Stoppers (@NYPDTips) August 6, 2019