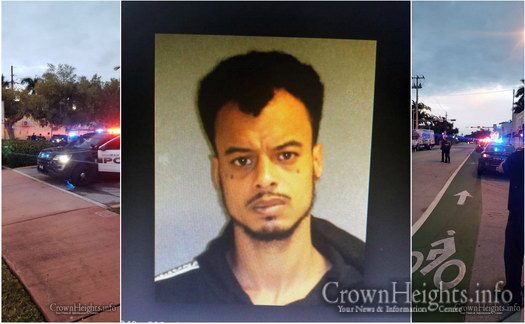 Three Jewish men were assaulted by a man with a rock in Miami Beach Thursday morning, sending one to the hospital with facial injuries.
by crownheights.info
The incident occurred around 5:30am Thursday morning, as three Orthodox Jewish men sat at a table in a Dunkin Donuts on 341 W. 41st Street in Miami Beach.
A man, identified as Leroy Jennings, allegedly entered the Dunkin Donuts, pulled a rock from his pocket, and began viciously hitting the three men.
Another man in the shop attempted to restrain the attacker, but he slipped away and fled the store.
Miami Beach Police responded to a 911 call, and tracked Mr. Jennings using dogs to the roof of a nearby Pizzeria. The Police brought the him down, and after the victims positively identified the attacker, placed him under arrest.
One of the three men attacked was transported to Mount Sinai Hospital with facial injuries.