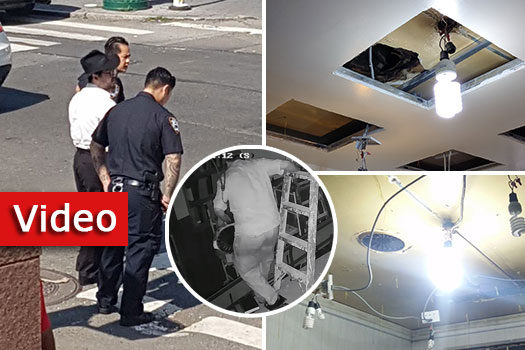 Shocking surveillance video captured a brazen act of vandalism to the building of 770. For over an hour an individual destroyed a part of the ceiling in 'upstairs 770' and removed a fan, which has been a part of the building since being constructed.
While renovations were being do to improve the lighting and appearance of the hallways and study halls of 'upstairs 770', one known vandal took advantage and stole an old relic that has been part of the original building of 770 since being constructed over 100 years ago.
The item, an exhaust ceiling fan, was reveled – along with many other interesting components, such as speakers and older fixtures – while the old drop ceiling was removed in order to make way for new air conditioning vents and upgraded LED lighting.
One morning people were shocked to discover a large gaping hole in the ceiling of the 'small zal'.
A review of the surveillance video quickly revealed the culprit, Chaim Hecter Grossbaum, 22, an American Bochur who is no stranger to causing trouble in 770, is seen spending over an hour in the dead of night smashing the ceiling and later walking away with the fan hidden underneath his suit jacket.
Rabbi Chaim Boruch Halberstam confronted Grossbaum and demanded that he return the fan, which he rebuffed.
Rabbi Halberstam, who is the custodian and member of Vaad Bedek Habayis that was appointed personally by the Rebbe, said that the fan was original to the building and in line with past instructions of the Rebbe nothing was every removed or changed that was not necessary – so for over 100 years the fan remained.
A police report was filed and recently Grossbaum was arrested outside 770 and was charged with Criminal Possession of Stolen Property and Petit Larceny, both misdemeanors. He was released on his own recognizance the following morning.
CrownHeights.info reached out to the Hanholo of Yeshivas Tomchei Temimim 770 who immediately distanced themselves from Grossbaum, "he is not part of the Yeshiva, he never was, he took a room in 749 by force and without permission and he eats in the Yeshivas lunchroom without permission," they said.