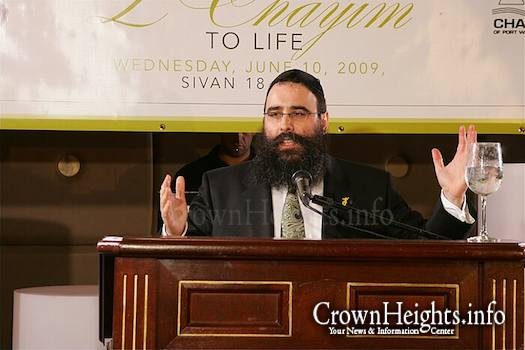 Rabbi Sholom Paltiel speaking at a Dinner benefitting Chabad of Port Washington. Archive Photo.
A BBC story purportedly linking Michael Cohen, President Donald Trump's personal lawyer, and the Ukrainian President through a 'charity' called Chabad of Port Washington was denied by Shliach Rabbi Shalom Paltiel, and the BBC issued a clarification to the original story.
The story, which was published on May 23, was widely cited and redistributed across multiple news sites – despite the information being unverified and untrue, according to Rabbi Paltiel who said he was never reached out to.
One day later the BBC issued a correction to the story, noting that those 'officials' met at a fundraiser, but are simply members of the congregation and have no ties to the organization itself.
The following is the statement released by Chabad of Port Washington to its members:
Dear Community Members,
Some have reached out to me about yesterday's article in the BBC, which wrongfully thrust our shul into the center of a story in which we have no role. The BBC has since walked back what they wrote, clarifying that the individuals (whose names they would not disclose) had, incidentally, attended our Chabad in the past.
Despite the BBC correcting their story, other media outlets that relied on the BBC's reporting have not yet done so, allowing this silliness to continue. With that in mind, I share with you the statement I released to the media:
The BBC's claim that our organization played a role in any of this is false and unsubstantiated. Neither I nor any of our staff know, or have been in contact with, any current or former members of the Ukrainian parliament, nor Michael Cohen.
Nobody at the BBC bothered to verify the claim with us, or even request comment, as is basic journalistic practice. Despite the fast-paced news culture we live in and the understandable desire to get a story out first, someone from the BBC could have easily picked up the phone or sent us an email.
* * *
There have been other outlets that have published similar narratives. One example is the discredited Politico piece, which tried to draw a connection between Trump and Putin through our Chabad. It was a smoke and mirrors article that didn't say much and was roundly criticized and described by the ADL's CEO as "offensive on many levels."
The connections stated in that article ran through an individual, Felix Sater. While he was involved with our Chabad, it was always in the realm of Judaism and the synagogue, and never political or business related, rendering us absolutely pointless to the story.
* * *
We, at Chabad of Port Washington, will continue to focus on our mission, providing a home away from home for any man, woman or child who wishes to explore their Jewish heritage in a warm, inviting and non-political environment.
With best wishes for a Shabbat Shalom,
Sincerely,
Rabbi Shalom M. Paltiel
Spiritual Leader, Chabad of Port Washington
P.S. For your reference, here's the BBC's reporting in their original story:
He [a Ukrainian MP] in turn used personal contacts in a Jewish charity in New York state, Chabad of Port Washington. This eventually led to Michael Cohen, the president's lawyer and trusted fixer. Mr Cohen was paid $400,000.
And here's the BBC's corrected story:
He in turn used personal contacts who attended a Jewish charity in New York state, Chabad of Port Washington. (A spokesman for the Chabad has asked us to make clear that officials there were not involved.)