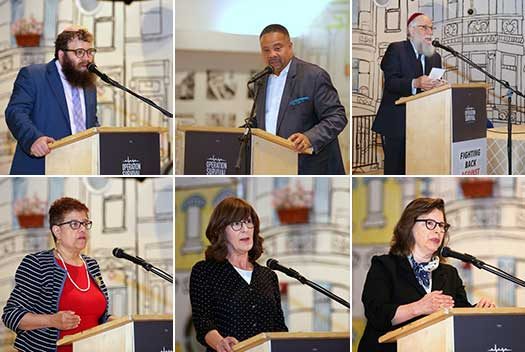 "If I needed to get help right now — I wouldn't know who to call", said Sara Benjamin, who lost her son, Kasriel to an overdose six years ago, on the stage of Operation Survival's Opioid Epidemic Conference at The Brooklyn Children's Museum in Crown Heights Wednesday evening. That, is precisely why fighting stigma, raising awareness, and coming together as a community to learn what can be done, is so critical when it comes to saving lives.
Attendees from both the Jewish Hassidic and the African American communities alongside elected officials (State Senator, Jesse Hamilton, Assemblywoman Diana C. Richardson, Majority Council Leader, Laurie Combo, and District Leader Jeffery Davis) showed up to learn how to help fight the opioid crisis that has taken over America. "Only by working together, we can stop this crisis", Rabbi Yaacov Behrman of Operation Survival, that has been working together with Rabbi Shea Hecht, Director of the National Committee for the Furtherance of Jewish Education, to fight addiction for decades, opened the community-wide Conference last night.
"In order to help addicts, one must first understand addiction", stated Dr. Brian F. Sands, Section Chief for Substance Use Veteran Affairs (NY). He explained that individuals who are socially isolated, unhappy, with no clear goals in life or proper emotional support, are at high risk to develop addiction, stressing that "teenagers are more easily addicted than adults", and shared a few alarming statistics:
1. 56% of addicts found the drugs they started with in the family medicine cabinet.
2. 16 years of age is when the average user starts taking pills. By the time they reach 20, the majority of addicts will experience an overdose.
3. 25% of people on prescription pain killers will move on to heroin when they can't access pills due to the high costs in the street.
In response, Dr. Susan Whitely, Director of the Chemical Dependency Services at Kings County Hospital, shared 3 strategies that city agencies have changed in the past years, to combat the problem of opioid addiction:
1. Monitoring prescriptions to 7 days (used to be 30 days).
2. Connecting users to care.
3. Distribution of Naloxone, which reverses opioid overdoses.
Why the change in attitude?
Over the past 7 years, there has been a significant and constant rise in overdose related deaths in New York City, causing agencies and elected officials as one to change their strategies when it comes to treating addiction. Jill Harris, Policy and Strategy Counsel to Brooklyn District Attorney Eric Gonzalez, shared with attendees the change in attitude: "Shame prevents people from getting help, because we criminalize drug use, and the major shift in the legal system has been to treat such cases as a health issue, a disease, and avoid criminal charges that pose even more obstacles for those who struggle with addiction since a criminal record will prevent them from getting a job, which will lead to low self esteem, and send them back on the path to using."
Susan Herman, NYPD Deputy Commissioner of Collaborative Policing, stressed that "mental health goes with addiction", and officers have been trained to use Naloxone — saving 280 lives in 2017. Yet, the numbers of deaths are still rising (1441 total in NYC in 2017, 350 in Brooklyn alone — more than homicides and car accidents combined).
In response, the "Good Samaritan Law" has been introduced by NYPD: Nobody will be arrested for calling 911 during an overdose. In addition, 2 new treatment centers to open in 2018 — as an option instead of actual arrest due to drug use — which will result in no record of even being there as long as you agree to get said treatment.
Amongst the city officials who took the stage, Patricia Zuber Wilson from OASAS shared with the crowd that she is well aware of the stigma and the secrets people hide about addiction, from personal experience within her own family. Recently, New York has increased the budget to fight addiction, and will be opening a new 24/7 access center in Brooklyn cause "Addicts don't decide to get help or OD only during regular business hours".
At last night's event, Senator Jesse Hamilton announced he has managed to secure $50,000 from OASAS for Operation Survival's programs in the community.
Meanwhile, when an addict gets taken into custody by NYPD, the arresting officer notifies CLEAR, a treatment center for addiction, and a peer counselor arrives to assist both addict and police avoid criminal charges for what is recognized as an illness. Jay Mcray, 66 from Harlem, a former addict in recovery, stressed the importance of peer counseling from his personal experience, saying that at his toughest moments, professionals don't do the trick: "Give me an addict to talk to, not a doctor". He also confirmed what the specialists spoke about in theory by admitting he started using drugs at an early age because "I didn't like who I was", after surviving a fire and being left with visual scars, and that addiction is a slow controlled death, "What an overdose really is, is you're trying to commit suicide to stop the pain". McCray is now a substance abuse counselor who volunteers at several organizations across the NYC boroughs, using his experience to help others.
So what can community members do? Assembly member Diana Richardson summed up the evening perfectly: "The most important thing is having real conversations with the people around you, because things like depression lead to addiction, and remember — not to judge those who come forward asking for help".
As for Sara Benjamin's question, who to call in an emergency, New York City has set up a hotline to help combat mental illness and addiction, replacing what used to be just a suicide prevention hotline. If you or a loved one is suffering, please call: 1-800-NYC-WELL
The conference was coordinated in partnership with many of the local elected officials, the Brooklyn Children's Museum, Kings County Hospital, and OASAS.
Photos by Itzik Roytman