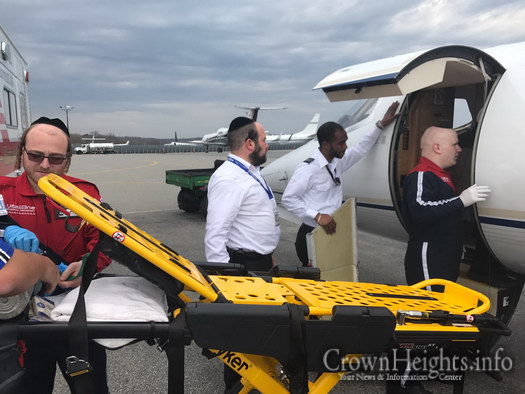 The Lubavticher Bochur who was critically injured in an accident in Guatemala has been successfully transported back to the United States, thanks to the efforts of many and now faces a long road to recovery. Friends have launched a fundraiser to help cover some of the medical costs.
The Bochur, who was travelling with friends in Guatemala over Pesach, was critically injured in a motorcycle accident on Thursday last week. He was transported to Guatemala City where local Chabad Shliach Rabbi Shalom Pelman saw to him receiving the best possible medical care.
Meanwhile the Shliach together with family members and friends arranged for an air ambulance, operated by VitalOne, to transport him back to the United States.
This morning, Sunday, he was successfully transported by jet – first to Florida, then on to Valhalla, New York – where a Kiryas Joel Hatzalah Ambulance transported him to Westchester Medical Center where he was admitted and is currently in the Intensive Care Unit and under sedation.
"He is being seen by top specialists at [WMC] for the trauma he received to his head during the accident" said a family member. "The Tehillim that was said and the money that was donated have already gone a long way to helping [him] make a complete and speedy recovery."
The public is asked to continue saying Tehillim for Mordechai Nissim ben Miriam
A GoFundMe page was started by Meir Lieblich, a friend of the victim, and is fully supported by the family. "There are a lot of details and medical bills involved. We are asking for the help of his friends, family and community to come together and alleviate the stress of the medical bills and expenses. We are hoping to raise $65,000 for him. Thank you for your concern during this time" he wrote.
Click Here to visit the GoFundMe Page, where over $10,000 has already been donated.