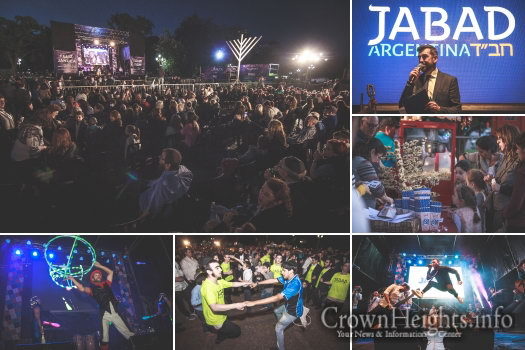 In Buenos Aires, the g​rand M​enorah lighting at La Plaza Republica Oriental del Uruguay has become a tradition, and the way all parts of the Jewish community celebrate Chanukah.
This year marks the 33th anniversary of this event, an extraordinary program and publicity campaign spreading the message of Chanukah.
On Monday, the 7th night of Chanukah, over 3,500 people from all parts of the Jewish community enjoyed and celebrated together at the gathering.
The program included music by the Tiembla El Mohel band, world famous flutist Shmuel Allouche, and singers Yossi Kapeluschnik and Anshil Eichbaum.
T​he menorah was lit by dignitaries and community leaders, including Israel's ambassador to Argentina, Mr. Ilan Avigdor Sztulman.
Rabbi Tzvi Grunblatt, national director of Jabad Lubavitch, pointed out how these 33 years of consecutive public Menorah lightings in Argentina is a true Chanukah miracle, and shows how light will always overcome darkness.
The program continued with artistic lighting shows and fireworks.
Thousands of people of all parts of the Jewish community and all the Batei Chabad enjoyed an unforgettable evening, arranged by Tzach – Chabad Lubavitch Argentina.