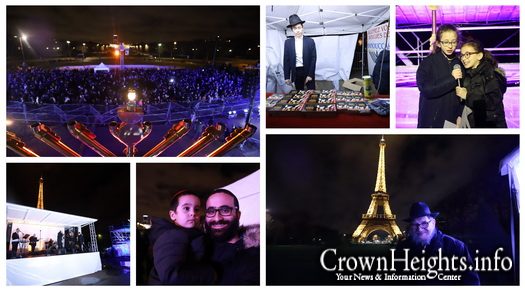 In spite of the tensions in Paris, with demonstrations in the streets, the international Chanuka Menorah Lighting took place near the Eiffel Tower together with Jews in Jerusalem, Netanya, and New York.
For this yearly event, more than 5000 people showed up as this has been the tradition for 30 years, giving tremendous Nachas to the Rebbe. The orchestra, the singer Nemuël, the spontaneous dancing, and important personalities were came together to create a beautiful atmosphere.
The event was arranged by Beth Lubavitch and its head, Rabbi Mendel Azimov , and left a strong impression. In attendance was the Israeli consul, and the Chief Rabbi of Paris, Rav Guggenheim, who shared the honor to kindle the first light. Mr. Joël Mergui, head of the Consistoire, spoke about how this event was peaceful and positive.
The mayor of Paris sent a letter to express her heartfelt wishes for a luminous Chanukah.
photos by Morde'hai Lubecki