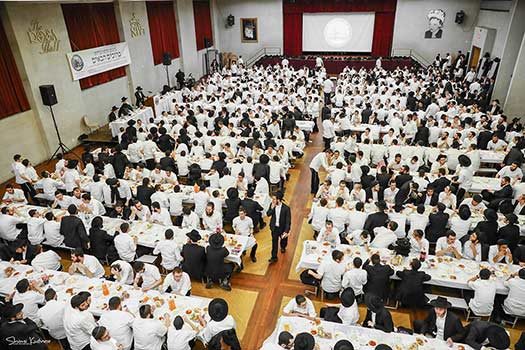 As one year ends and another approaches, all eyes are on the holidays around the corner, and new ways to connect to our Rebbe. Tmimim around the world are occupied with elevating an important spiritual task by purchasing the full 45 volume series of "Torat Menachem" via Vaad Hatmimim for a special price. Read more for details.
"There is no better day than Chai Elul to launch a special sale, marking the birthday of the two great luminaries, the Baal Shem Tov, and Rabbi Schneur Zalman, who paved the way for Hafatzat Hmaayanot Chutza spreading the Hassidic teaching" we are told at the 'Vaad Hatmimim' headquarters.
As the leading organization dedicated all year long to bringing life to Tmimim in all Lubavitch yeshivos worldwide, they have decided to provide a unique opportunity for everyone to purchase the Rebbe's teachings, in order to be able to have direct access to all Sichos and Maamorim of 10 full years (5742-5752)The new sale which has been taking the Tmimim by storm, is a result of an initiative created by Vaad Hatmimim and Lahak Hanachot, the Rebbe's Torah main publisher. Lahak Hanochot has published approximately one hundred and fifty books up to date, all dedicated to the Rebbe's teachings, and are constantly working on new publications. Over the past couple of years, great efforts have been made to enable more and more to buy the book series at a low cost, and so far thousands of "Torat Menahem" sets have been sold through this special sale.
Now, the time has come for the Tmimim who are very fond of the Rebbe's torah, who dedicate time every day to study his "Sichos". From Chai Elul, 5778, and until Vav Tishrei 5779 — Yeshiva students can purchase the set of 45 books which include all the Sichos and Maamorim said by the Rebbe between 5742 and 5752.
How to take part in the sale:
Anyone interested must register in advance, at the designated site. All you have to do is fill out your details, including method of payment (Sale price — $300 or 1,100 NIS) – www.lahak.org/tmimim
When will the books arrive?
The books will go to print immediately after the end of the sale. They will be ready and packaged by 5 Tevet, 5779. picking it up independently will be available between Hey Tevet, and Yud Shevat at the two following locations:
1) Lahak, on 1507 President Street in Crown Heights
2) The Kehot bookstore at Kfar Chabad, Israel
Another option – having the set delivered directly to your home (for US and Israel residents only). If you live elsewhere, delivery can be arranged to central Chabad locations in:
1) Moscow, Russia 2) London, UK 3) Paris, France 4) Los Angeles, California 5) Melbourne, Australia

Is there another way to order the books?
Yes! If you're in Israel, and don't have access to a computer regularly, you can order the series over the phone via the Kehot store: 03-9606018, or the Tzama center at: 072-2792072, and enjoy payment installments as well. From other places, or for other questions, you can send an email and we'll try to respond as soon as possible – 60@lahak.org