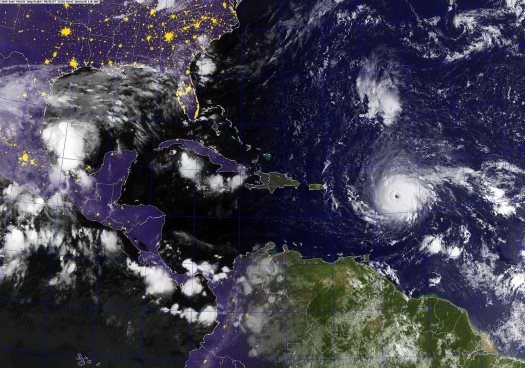 Satellite image of Hurricane Irma barreling through the Caribbean Sea.
Two Florida Chabad synagogues damaged by Hurricane Irma have filed a lawsuit contending that houses of worship are unconstitutionally barred from receiving disaster assistance through a key federal program.
From News 4 Jax:
Chabad of Key West and Chabad of the Space Coast filed the lawsuit Monday in U.S. District Court in Key West against the Federal Emergency Management Agency and the Florida Division of Emergency Management.
The lawsuit contends that a longstanding federal restriction on synagogues, churches and other religious institutions receiving disaster-relief grants through FEMA's Public Assistance Program violates the U.S. Constitution's First Amendment and a law known as the Religious Freedom Restoration Act.
"Plaintiff synagogues ask this court to order FEMA to treat them on equal terms with other non-profit organizations in accepting, evaluating, and acting on their disaster relief applications," the 29-page lawsuit said. "The synagogues are not seeking special treatment; they are seeking a fair shake. And they need to know now whether they have any hope of counting on FEMA or whether they will continue to be excluded entirely from these FEMA programs."