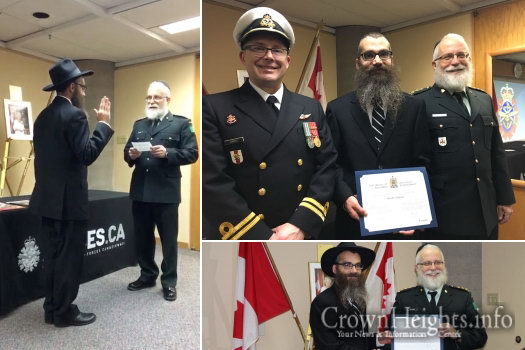 An extensive recruitment process culminated in a formal Attesting Ceremony held Wednesday 29 November at the Canadian Armed Forces Recruiting Centre in Toronto, when Rabbi Dr. Noteh Glogauer officially became a Chaplain, with the rank of Captain, in the Royal Canadian Air Force.
Officiating at the ceremony was SO 4th Canadian Division Chaplain, Captain (Rabbi) Lazer Danzinger, and Lieutenant (Navy) James O'Keefe.
Captain (Rabbi) Glogauer is eager to embark on his new adventure, as a full-time Air Force Chaplain, posted to the 17 Wing in Winnipeg, Manitoba.
Rabbi Glogauer believes that one his most significant challenges as a chaplain will be providing support in such a diverse, interfaith, multicultural setting such as the Canadian Armed Forces, at the same time offering spiritual care to Jewish members and their families posted to his Winnipeg Wing.
"I have been fortunate to have had experience in many diverse settings and am excited to meet different people of varying backgrounds and engage them in an environment of mutual respect and tolerance."
Rabbi Glogauer will join his Wing in early January, 2018.