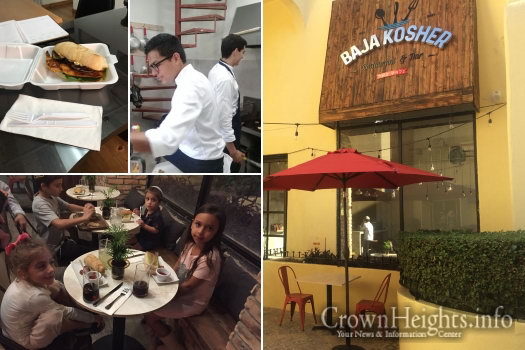 A new kosher restaurant just opened in the heart of Cabo San Lucas, Mexico, the first of its kind on the Baja California Peninsula.
Baja Kosher will serve artisanal burgers, schnitzel, and a fresh Mexican menu with seating for up to 50 people. It will be located at the Plaza Bonita Mall, just behind the large Starbucks in the center of town, a few short steps away from the marina and tourist activities but in a classy, semi-secluded plaza.
The restaurant will service the 150 full time Jewish residents of Cabo, snowbird members of the Jewish community, and hundreds of Jewish tourists who visit through the course of the year. It will also cater to locals who are looking to try the unique kosher cuisine with its saltier meats and Jewish spices.
For the last 8 years, the only kosher food available in Cabo has been a catering service offered by local Chabad Shlucha Sonia Hershcovich. However, rapid growth and expansion in the area has led the Cabo Jewish Center to open the first kosher restaurant on the Baja California peninsula.
The restaurant will operate under the supervision of Chabad of Cabo, Rabbi Benny Hershcovich, who hopes it will expand the Jewish Center's influence to Jewish people around town, particularly those who may not feel comfortable visiting a Shul environment. Therefore, Baja Kosher will compete with non-Kosher restaurants in the area in terms of quality, price and ambience.
Cabo is a tourist and celebrity hotspot, famous for its surf, beach, nightlife, underwater wildlife, beautiful mesas, and secluded homes. With a new kosher restaurant serving unique dishes and a variety of mouth-watering sauces, it will surely attract a new number of Jewish tourists who have avoided visiting Cabo in the past because of the challenges of kosher food.
"What kosher-keeping tourists generally want is a place that's centrally located, but not right in the middle of all the noise and ruckus. We found the perfect place for the restaurant that will allow Jewish tourists to enjoy a peaceful kosher meal and then head out and enjoy what Cabo has to offer," said Rabbi Benny Hershcovich.
"So excited to finally be able to come to town and enjoy a real, fresh kosher meal. No more eating frozen meals on a hotel bed anymore," said tourist Romy Langer of Irvine, California.
"It's a pleasure to see that this project will not only provide food and material products to their clients, but the spiritual sustenance offered is also inspiring and unique," said Frederico Holzkan, a Cabo Jewish community member.
The Cabo Jewish Center is the Jewish embassy to Cabo. Opened by Rabbi Benny and Sonia Hershcovich in 2009, the center serves as a one stop shop providing assistance to Jewish residents of Cabo and visitors.
Chabad offers Kosher food, Minyanim, Hebrew school, Bar Mitzvahs, weddings, funeral services, consultations, classes and everything in between.