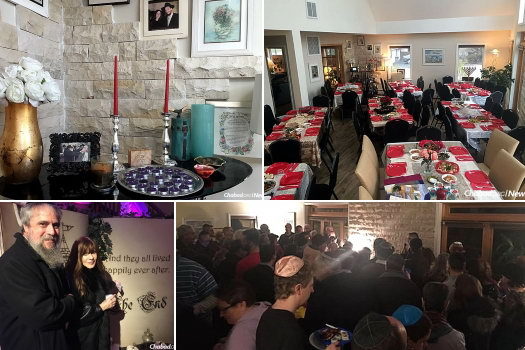 From Chabad.org by Faygie Levy Holt:
For more than 10 years, the property near a busy intersection sat dormant.
Deeded to Lubavitch Center of Essex County, it had potential. At least, that's what Rabbi Baruch and Devorah Klar thought. The space was too small for a synagogue, so the Klars kept paying taxes on a chunk of land that was filled with weeds, but little else.
"People kept saying to do something with it," says the rabbi, who with his wife directs Lubavitch Center of Essex County. N.J. The question was what. After hearing from a number of people that they got involved with Judaism after spending "Shabbat around the Klars' table," a seed was planted.
Enter the "Shabbat House," a place where Jews of all backgrounds and affiliations are welcome to come and enjoy a home-cooked Shabbat dinner together. The Klars began mapping out their plans for the Shabbat House in 2015, with the facility officially opening in August 2016. Since then, more than 1,000 people have enjoyed a Shabbat dinner or holiday meal together.
Rhonda Lillianthal recalls how the rabbi once said that for him, every Friday night is a party.
"I think that's what draws us there. It's a place to really celebrate and be joyful, and to do that as a community," says this local resident and Jewish communal professional, who serves as the JCC MetroWest director for the Center for Jewish Life in West Orange, N.J. She and her husband, Gary, usually have guests in their home for Friday-night dinner, but will sometimes go to the Shabbat House.
There's something special it, she says; it fills a niche. "I think there are people who aren't connected to Shabbat and are perhaps intimidated to go to synagogue, where they might feel you have to know the decorum of a prayer service—when to sit, when to stand," she explains. "This is a very casual way to experience Shabbat in a non-intimidating environment."
'Come and Feel Comfortable'
Reminiscent of a ski chalet, the building interior is replete with Jerusalem stone and original artwork, a state-of-the-art kitchen and a light-filled main living space with a high cathedral ceiling where dozens of people gather each week for Friday-night dinner. It also has two bedrooms on the upper level, where the couple lives.
With more than five large tables set up for Shabbat each week, the Klars can easily host between 50 and 60 people, though they have organized the seating for as many as 100. By contrast, their old home fit 40 at most—and that was pushing it.
"Previously, to be at our house for dinner, you either had to be personally invited or come with somebody," explains the rabbi. "But we thought to build an entity in the center of town where people would be able to just stop by and enter. It's a community house. Anyone can come any Shabbat and feel comfortable."
People are encouraged to register, signing up beforehand online, but the Klars always try to be accommodating. All of the kosherfood is home-cooked by them—with the help of a slew of volunteers—and served buffet-style. The couple has three fridges and freezers to stock the abundant amount of items they need to have on hand.
Of course, they note, the Shabbat House is not where you go for a quiet meal. It's where you go for Jewish company—to meet new people and get an authentic taste of the beauty of the holiday. Guests often share memories of previous Shabbat experiences, be it at summer camp or as children in their grandparents' home.
For the Klars, who also run the Lubavitch Center Judaica store, which sits kitty-corner from the Shabbat House, the opportunity to do something different was definitely appealing. For decades, the couple offered a Jewish Renaissance Fair that attracted thousands of people to Essex County for a Sunday of entertainment and connection to their heritage. They were also the force behind Café Devorah, a weekly Saturday-night, post-Shabbat celebration that offered up Jewish entertainment.
They ran a Chabad synagogue in West Orange, N.J., for a while, too, but as the rabbi says, "not everyone is going to go to shul. We are not going to get 1,000 people to come to shul, but we've already had more than 1,000 people come for Friday-night dinner at the Shabbat House."
'What Shabbat Is All About'
Among those who have enjoyed dinner at the Klars are Randy and Gaelle Schneider. Though not a shul-goer, Randy Schneider, who grew up in a Jewish home and environment, says he has always been intrigued by Shabbat, which his family didn't observe.
"The feel you get when you walk in is fun and exciting—all of these people coming together every week for an event" centered around Shabbat, says the 48-year-old business consultant. "I've been to the Shabbat House four times in the last year, and always come away having had an amazing time and feeling wonderful.
"The food, the singing . . . it's always something unique," continues Schneider. "Whether we are sitting at the table and talking about current events or listening to a d'var Torah, it's so nice to have that feeling of what Shabbat is all about."
He's now trying to impart that feeling in his own home by having Shabbat dinners with his wife and their four children.
That may be the ultimate compliment for the Klars.
"Part of Chabad's philosophy is to show that Judaism is beautiful and joyous," attests the rabbi. "This house attracts everybody, and once here, they see how much fun it is. Plus, it's a range of people. You have observant, unaffiliated—a coming together of Jews of all backgrounds who ordinarily might have no reason to get together."
The couple is adding programming beyond Shabbat dinner, like challah-baking and Torah study for women, a "Cholent & Chill" class for men and a Saturday-evening melavah malkah (the meal held after the end of the Sabbath) with live Jewish music. The programs attract varying groups of people, but what ties the activities together are that they're all connected to the day of rest.
"The whole idea is that we live with Shabbat all the time," says Devorah Klar. "We thought we'd have to make Shabbat entertaining, but people seem happy just sitting near each other and bonding."
Adds the rabbi: "We want to have this place packed all the time. We want people to get lit . . . and then they will make their house a Shabbat House."