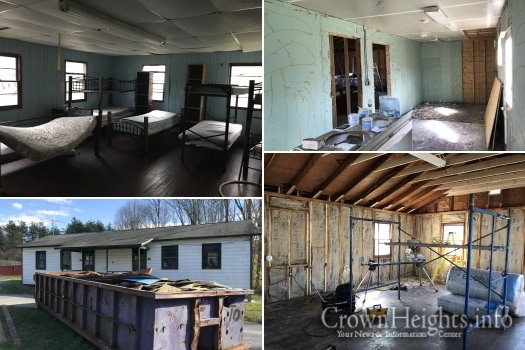 Camp Emunah B'nos Yaakov Yehudah is getting a head start in preparation for its 65th consecutive summer in Greenfield Park, NY, with the remodeling of a few more bunkhouses.
Once again, thanks to the hard work and generous support of local businessman Shaya Gordon, Camp Emunah is able to do some costly, much needed renovation work.
"When we launched the "Every girl should feel like a princess" project back in the spring, we knew that time will only allow for the renovations of two bunks. We were nevertheless determined to get the project on the ground, and settled for the two. Now that summer 5777 is behind us, we are putting all our efforts into trying to get as many bunks as possible completed before summer 5778," said director Rabbi Shmulie Hecht.
"With more time on our hands we will not have to cut any corners. Construction is already underway and this time the bunks have been completely gutted. The current work will cost about $15,000 more than last time, but will be well worth the investment," said Shaya Gordon.
This time the renovations will include:
·       properly leveling the building
·       raising the existing ceiling
·       insulating all walls and ceiling
·       installing new sheetrock and painting the entire interior
·       rewiring electricity adding outlets and air conditioning
·       completely redoing washrooms area building new diving walls, installing brand new showers, toilets, sinks, shelves, and mirrors and adding light and ventilation
·       replacing all light fixtures
·       replacing all doors
·       replacing all windows
·       building new beds for counselors and campers
·       purchasing brand new custom made mattresses
·       building new cubby space + hanging space for campers and counselors
·       putting down a brand new floor
·       rebuilding front and back decks
The estimated cost of the project is $35,000 of which 10% has been raised.
Potential participants are being asked for donations in increments of $1,000. Each person who contributes to the project will have his or her name included on rededication plaque on the front of the bunk.
For more information or to make a donation, please call the Camp Emunah Office at 718.735.0200 or email CampEmunahDirector@gmail.com.