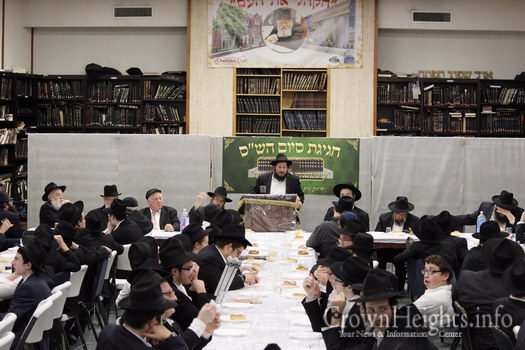 File photo: New Haven Yeshiva celebrates completion of Shas by a student, April, 2016.
Bursting at the seams, the Chabad Yeshiva in New Haven, Connecticut, will move into a new campus this September, formerly home to a Catholic Church, which it recently purchased for $1.5 million.
From the New Haven Register:
Rabbi Yosef Kalmenson, the revered dean at Yeshivas Beis Dovid Shlomo, said the rabbinic school was given "a unique blessing" when it opened 45 years ago.
The late Rabbi Menachem Mendel Schneerson, known as "the Rebbe" and spiritual leader of Hasidic Jews, said of the new school "that we should always be tight and be growing," said Kalmenson, a Talmudic scholar and author of 22 books on the subject.
The yeshiva has indeed become "tight" in its quarters at 292 Norton St., as its grown to become a leading Chabad institution, with 140 students (60 during the summer) who come from across the United States and beyond to be trained in the Talmud, the Jewish law and teachings that have been handed down for centuries. Most will go on to become rabbis themselves.
The yeshiva also serves as a community center for the estimated 70 Orthodox families in the Beaver Hills neighborhood who participate in Sunday school, after-school programs, classes and activities that bring the residents together.
In September, however, there will be much more space available for the students, teachers, mentors and community members as the yeshiva moves to the Whalley Avenue campus of the former St. Brendan Roman Catholic Church, which it recently purchased for $1.525 million.
"We are busting at our seams here," said Rabbi Yosef Lustig, principal of the yeshiva. "This will allow us to expand."
Click here to continue reading at the New Haven Register.