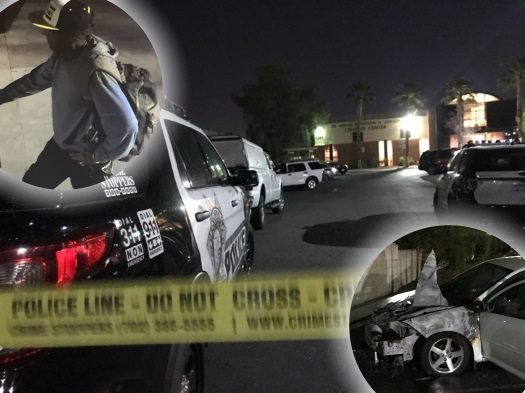 Local firefighters said multiple vehicles in the parking lot at the Chabad Jewish Center of Las Vegas and Southern Nevada were torched late on Monday night. The incident is being investigated as a hate crime.
Three cars were damaged in the incident, at least one severely.
Earlier the same evening, a trash can was set alight in a restroom inside the building.
No one was hurt in either incident.
The Las Vegas Fire Department announced this morning (Tuesday) that an arrest has been made in the incident.
"Unfortunately, throughout the thousands of years of Jewish history, we've been targets of multiple attacks, attack after attack," Rabbi Levi Harlig, director of Chabad of Las Vegas, told NBC News. "God is with us and he protects us and the Jewish nation thrives. The Jewish nation is alive and we're getting better and were getting stronger."
Crime Scene Detectives investigating possible hate crime at #LasVegas Chabad Synagogue. Car set on fire during evening service. @News3LV pic.twitter.com/AEqnq953ZX

— Gerard Ramalho (@GerardNews3LV) May 9, 2017
Rabbi Levi Harlig says the suspect walked straight into the men's restroom and set this garbage can on fire. @News3LV pic.twitter.com/xpcVtAd1CU

— Faith (@FaithNews3LV) May 9, 2017
Photo released by Chabad #Jewish Center of possible suspect in car fire incident. Rabbis convinced it is a #HateCrime @News3LV pic.twitter.com/RUKW4ppIoL

— Gerard Ramalho (@GerardNews3LV) May 9, 2017