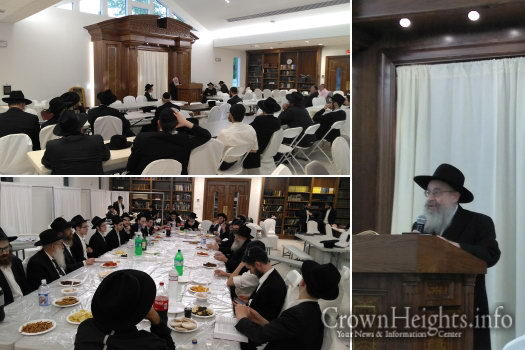 On Wednesday, Isru Chag of Pesach, the Miami Beach community partook in a Kinus Torah, organized by Hatomim Sholom Dovber Korf.
The event was hosted in Bais Menachem of Miami Beach, and included shiurim in Chassidus and Halacha by world renowned scholars such as Rabbi Leibel Schapiro, Rosh Yeshiva of Yeshiva Gedola of Greater Miami; Rabbi Avrohom Korf, Head Shliach to Florida; Rabbi Leibel Shuchat, Rosh Yeshiva in Caracas, Venezuela; Rabbi Chaim Schapiro, Rosh Yeshiva of Tomchei Temimim in Morristown, NJ; and Hatomim Avrohom Caroline.
The Shiurim were followed by a Farbrengen with Rabbi Yisroel Spalter, Shliach to Weston, FL, which lasted until the late hours of the night.