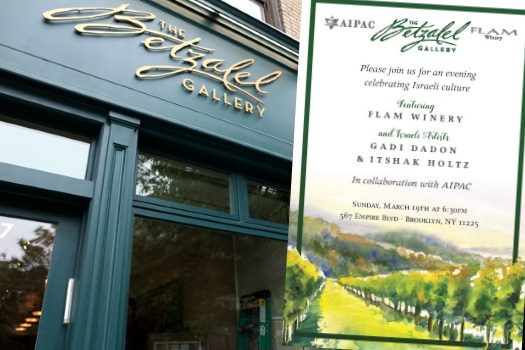 AIPAC, Flam Winery, and Israeli artists Gadi Dadon and Itshak Holtz will join with The Betzalel Gallery in Crown Heights on Sunday evening, March 19th, at 6:30 pm for a celebration of Israeli culture.
From its inception, the Betzalel gallery has prided itself on representing the richness and warmth of Jewish heritage and tradition. Sunday's event, in collaboration with The American Israel Public Affairs Committee (AIPAC) is a celebration of Israeli culture, featuring the best in Israeli wines and art.
Visitors to the gallery can taste for themselves why FLAM winery is one of Israel's best.  The venerable European –styled family boutique winery has been drawing the faithful attention of wine lovers, restaurateurs, and numerous wine critics from Israel and abroad ever since its inception. Flam's vineyards are planted in the Upper Galilee and the Judean Hills, in the best parcels for growing wine grapes. Each wine in Flam's lineup has a clear and distinctive style that comfortably blends old-world European winemaking with new-world winemaking techniques. The results offer rich, deep, and powerful wines that convey subtle elegance, a nice sense of place, good potential for longevity, and a hint of mystery.
It's not only about the wine-tasting.  Experience the vibrant art of Israeli artist Gadi Dadon who has been living and working in mystical city of Tzfat since 2002. Using bright colors and dynamic poses to convey the joy of Jewish tradition and belief, the self-taught artist derives his inspiration from the religious society around him.
Also featured is the art of Itshak Holtz, who currently resides in Jerusalem. Mr. Holtz is  one of the most influential contemporary Jewish genre artist today. His iconic renderings of Jewish life and ritual are instantly recognizable and are avidly sought after by collectors worldwide.
For more information, please visit Facebook.com/TheBetzalelGallery, or contact the gallery, 718 307 1005 shmuel@thebetzalelgallery.com.