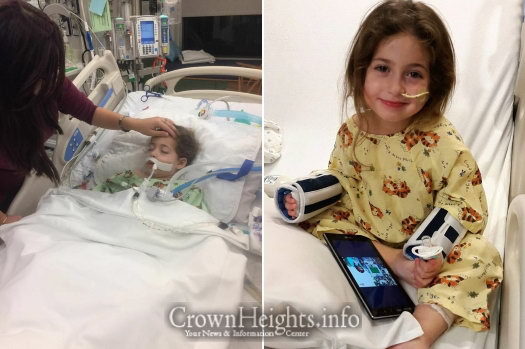 The mother of Dinush Rivkin, a four-year-old girl from Kiryat Malchi, Israel, for whom Jews around the world contributed over 1.5 million Shekels to help pay for a desperately needed surgery in the U.S., has reported on Facebook early this morning that the surgery was a success.
Dinush had suffered since birth from a rare condition called Esophageal Atresia, effectively preventing her from eating, and had to be sustained via tubes connected to her stomach.
"We are excited to announce that the surgery has concluded a few hours ago, and was successful, thank G-d. Our heroine Dinush is now in the recovery process," she wrote, along with a photo of a smiling and healthy looking girl.
"Thank you for your prayers, you have inspired us," she wrote, addressing the thousands of Jews around the world who mobilized to help pay for the Rivkin family's transportation to Boston and for the surgery itself.
In the video below, Dinush can be seen asking for prayers on her behalf shortly before she was wheeled into the surgery: