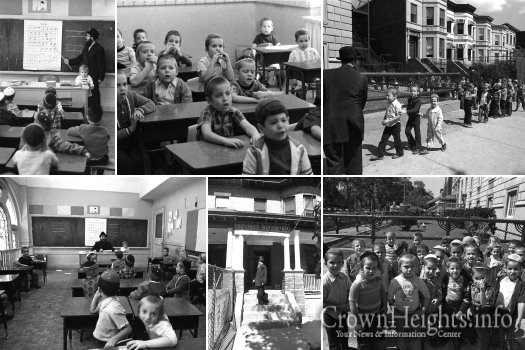 In honor of its 60th year campaign, we present to our readers a selection of six never-released-before pictures of Oholei Torah, taken in the 1970s.
During those years Oholei Torah had a building on 1267 Eastern Parkway, between Buffalo and Rochester Avenues, and in 1972 the school moved into the Brooklyn Jewish Center Building, which now is the anchor building for their Eastern Parkway Campus.
The Building was recently renamed as the Dovid and Sara Deitsch Building, honoring the "Tatteh and Mammeh" Of Oholei Torah. The main door entrances are called the Sha'arei Teitelbaum, in tribute to Reb Michoel and Esther Teitelbaum, co-founders of Oholei Torah.
Special thanks to JEM media archive office for sharing these treasured pictures.
Oholei Torah is currently running a 24 hour charidy campaign at www.charidy.com/ot, with the goal to raise 2 million dollars.
Can you identify anyone in the photos?