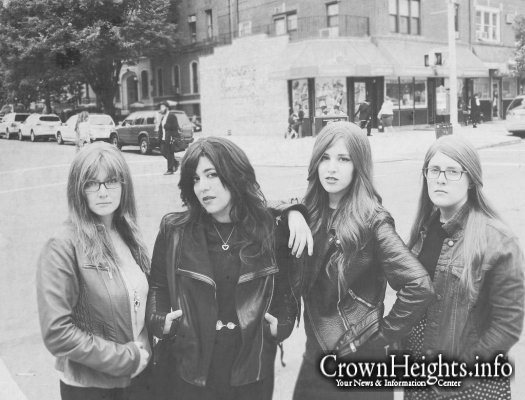 Following a successful Kickstarter campaign, alternative-rock band Bulletproof Stockings are gearing up to drop their debut full length, Homeland-Call-Stomp, later this December.
The quartet consisting of, as pictured above from left to right: Dana Pestun (violin), Dalia Shusterman (drums/vocals), Perl Wolfe (lead vocals/piano) and Elisheva Maister (cello), will also embark on a US tour including a record release show at Webster Hall on December 6th.
With features in various publications including The New Yorker, VICE, Entertainment Weekly, The Wall Street Journal and more already in their stockpile, Bulletproof Stockings will look to spread their progressive message and eclectic rock stylings out to the world.
Emerging from their Chasidic community of Crown Heights, Brooklyn, NY, bold in their ideas and sound, the band seeks to empower women as proven last year when they defied naysayers and sold out Arlene's Grocery with an all-female audience. The performance would serve as the basis of an episode of Oxygen Channel's reality series "Living Different".
The group's upcoming tour schedule is listed on their website.