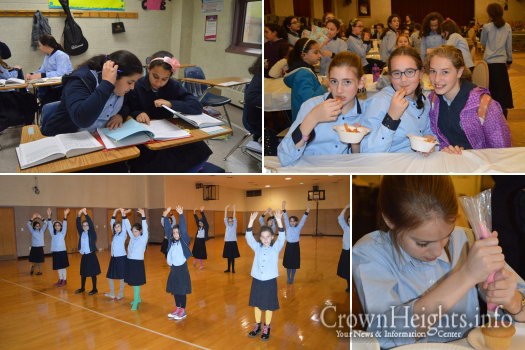 BR Teen Club, an after-school program for Bais Rivkah's 6-8 graders that provides nourishing food, homework support, and stimulating recreational clubs and workshops, has begun its fourth year with much enthusiasm.
The Teen Club is an after school program dedicated to helping the youth in the Crown Heights community.  Because it is government funded, all the participants enjoy the program absolutely free.
A project of New York City's new after-school initiative, Bais Rivkah Teen Club receives funds and clear directives that were crafted to provide quality, top of the line after school programs that cater to the needs of the community.  The NYC Department of Youth and Community Development/SONYC program operates through the Jewish Community Council of Greater Coney Island under the auspices of Rabbi Moshe Wiener and After School Programs Coordinator Chanie Moskowitz.
At BR Teen Club, students are greeted by the warm staff that works diligently to provide the girls with a positive environment. A light dinner is served, and then students begin their homework assignments and study with the assistance of dedicated teachers providing them with much needed academic support. Students then participate in a choice of high quality activities that promote creativity and self-esteem, and teach life skills. Some of the activities include: crafts, cake decorating, music, drama, art, Photoshop, dance, sports, mad science, zumba and much more.
The program rewards the students for their efforts with amazing incentives. Raffles, treats, and fantastic trips are offered to the girls that are committed to the program.
"I love the program because it provides a safe and supervised environment for me to be with friends," said one BR Teen Club member.
"My daughter enjoys the warm, relaxed environment after a full day of school. I appreciate that she gets her homework done. As a full time, working mother, I know that my daughter has a wonderful place to be after school, and I don't have the stress of finding the time to complete her homework with her," said a BR Teen Club Parent.
For more information about the program, e-mail Afterschool@bethrivkah.edu.