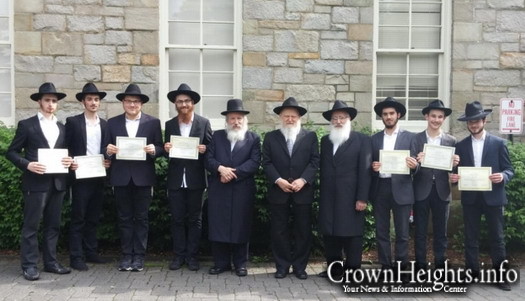 Amid a very inspiring and joyous gathering, nine students of Tomchei Temimim Lubavitch-Morristown celebrated the completion of 16 Masechtos (tractates) of Talmud, totaling some 1,000 dafim (pages).
At the gathering, another student spoke about his achievement of learning 70 dafim in Yevamos, one of the three most difficult tractates of the entire Talmud.
All this was in addition to the regular academic schedule of the entire student body learning tractate Gittin, which was covered this year by all the Chabad Yeshivos globally.
An electrifying feeling of elation was felt throughout the campus. Speaking with great humility, the Talmidim expressed elation and gratefulness to the Almighty for this accomplishment, as a Torah gift to the Rebbe for 3 Tammuz.
The parents of the students also spoke by telephone with gratitude and pride.
Beautiful certificates were conferred to each of the nine students: E. Backman – Albany, NY; M. Cohen – Montreal, Canada; M. Goodman – Brooklyn, NY; S. Hartman – Brooklyn, NY; A. Herson – Basking Ridge, NJ; M. Levin – Kfar Chabad, Israel; G. Polter – Oak Park, MI; Y. Sirota – Morristown, NJ and N. Zeiler – Monsey, NY.
A Seudas Mitzvah was served to the entire student body in honor of the occasion.