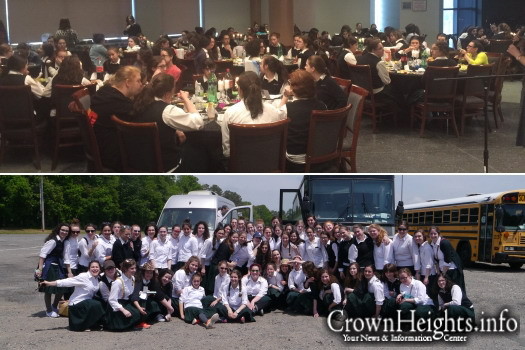 On Tuesday, Rosh Chodesh Sivan, all the volunteers of HOO (Helping Our Own) were treated to a beautiful dinner of appreciation at the Jewish Children's Museum.
HOO (Helping Our Own) is an organization which focuses on helping out within the community. It was started just last year and already has had an enormous effect on Crown Heights.
Every week the Beis Rivka girls go to families who need help and take care of the children while the mothers are free to do what they need to. HOO is also affiliated with Bikur Cholim and Shifra and Puah.
When the girls came inside they were greeted by beautifully set tables and delicious food from Kaff Kafe.
The event was introduced by Fruma Gajer, who was MC and spoke about her experiences with chessed and its importance. Then a video was shown with some quotes of gratitude from mothers and celebrated almost 4,000 chessed hours. That was followed by a mother speaking about her HOO experience.
Two HOO volunteers proceeded to talk to the girls about how HOO has affected their lives personally and about their experience with chessed.
Next was an awards ceremony where each girl was called up to receive an award with the amount of chessed they did this year. The ceremony was followed by the auction drawing hosted by Rabbi Benjy Stock.
To top off the event (literally), there was an ice cream bar with waffles and various toppings.
Exactly a week later all girls who got 30 HOO hours or over were treated to a full-day trip to Six Flags Great Adventure. The day began at Rabbi Stock's house, where the girls were served a scrumptious breakfast. Following the breakfast, the girls loaded on to the busses to Six Flags and had a full fun day at the park. After mincha, the girls enjoyed a delicious supper of pizza.
"Woo HOO for all those girls who came on the trip and did 30+ hours of chessed!" said the organizers. "We would like to extend a special thank you to Rabbi Benjy Stock for all his dedication and support to HOO and the families of Crown Heights," they said.
The event would not have been possible without the following sponsors:
First Quality
Tzfasman Jewelers
The Art Cafe
Post Mark It
JEM
Boueff & Bun
Totally Her
Little Toes
Scentry 43
Dabrushie Hair
Makeup by Rivky
PikaPhotography
Facial by Chani Hershkop