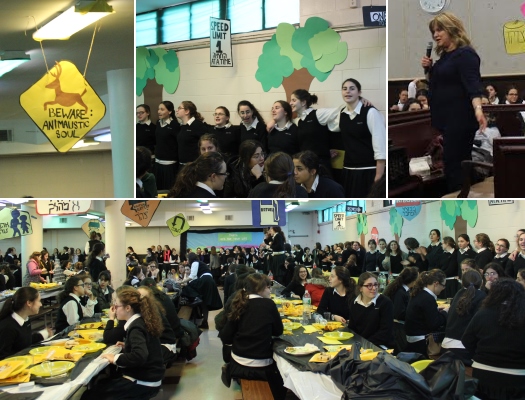 When the students of Bais Rivkah Highschool walked into to school Thursday morning, Yud Tes Kislev, they were greeted with a beautiful picture of the Alter Rebbe on top of a sign that read "L'shana tova blimud hachassidud uv'darkei hachassidus."
The girls went straight up to their classrooms to learn some chassidus before Davening and were treated to fresh rugelach and chocolate milk.
When the workshop on the Alter Rebbe's letter "Katonti" was over, everyone headed down to the shul for a beautiful davening with Hayom Yom and Inyonei Moshiach U'geulah presentations.
Then they were off! Each grade went to a nearby shliach to gain inspiration from the shluchim themselves, as well as their baalei batim. Ninth grade heard from Rebbetzin Winner in Brighton Beach, tenth grade from Rabbi Metzger in Midtown, Manhattan, eleventh grade from Rabbi Hecht in Park Slope, and twelfth grade from Rabbi Raskin in Brooklyn Heights.
The girls came back to an elaborate Yom Tov Seuda in the Bais Rivkah lunchroom. The lunchroom was decorated according to the theme of the day; 'Tanya is the GPS for our neshama.' There were all sorts of road signs that had Chassidic quotes on them. For example, the stop sign said 'STOP: Iskafia.' After singing Seder Niggunim, accompanied by pianist Simmi Sebbag, the girls made their way up to the shul to daven Mincha.
Mincha was followed by a program that displayed several scenarios to show how Tanya is a practical guide for us. A short video expressing problems that we all face was shown,with three speakers in between. Mrs. Esti Shneerson spoke about the connection between chassidus and art; how Hashem is found even in the "negative spaces" of our lives. Ms. Chaya Shochet spoke about the different tactics of the Yetzer Hara to distract us during davening, and Mrs. Sara Blau spoke about the different ways the Yetzer Hara gets us to feel depressed about ourselves.
The girls walked away with a beautiful magnet expressing these three topics and inspiration to last a lifetime – but that was not the end.
Friday night the girls joined for a Shabbos meal all together in the Rosa Hall at Campus Chomesh as part of a SHABBAT-IN, preceded by workshops and followed by Farbrengens.
Parents: to see more of the event from the Bais Rivkah website, click here: http://www.bethrivkah.edu/templates/photogallery_cdo/aid/2796899/jewish/Yud-Tes-Kislev.htm