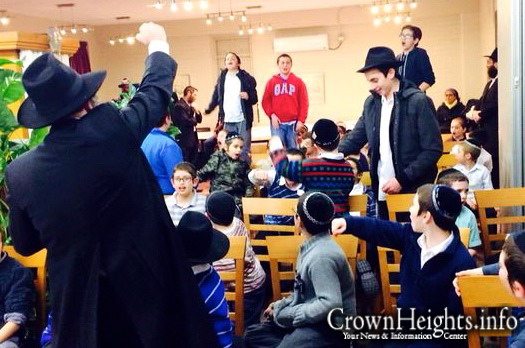 Rabbi Zalmy Goldstein of Yeshiva College joined together with Rabbi Yehuda Straiton of Kesser Torah College to bring together some 80 children from around Sydney for a rally in honor of Gimmel Tammuz.
The rally took place at the Young Adult Chabad Shul, located at the Yeshiva Centre – Chabad NSW HQ.
The program started with the 12 Pesukim, followed by the Nigunim of the Rabbeim.
Hot dogs were served, followed by a special video presentation.
The children had the privilege to hear from Rabbi Shais Taub about how to find inspiration within oneself, and this was illustrated through a number of remarkable stories.
There was a grand raffle for a Chitas, pictures of the Rebbe and other prizes.
The rally ended with all the children receiving some very tasty pareve ice cream.
The Children's Rally was preceded by a special program for teenagers, who were also addressed by Rabbi Taub.
A big thank you goes to Rabbi Feldman, Rabbi Slavin, Rabbi Wilansky, Rabbi Kastel and Chida Levitansky for making the event possible.