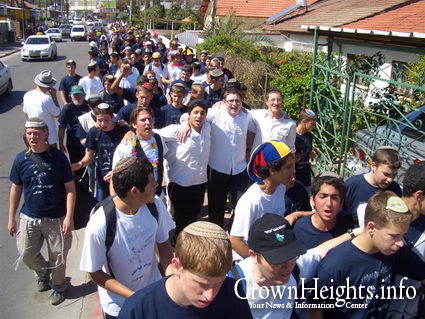 SDEROT, Israel [CHI] — This past Shabbos five bochurim, Talmidai Hatmimim from Yeshivas Ohr Yehudah went to be "Mechazek and Mesameach" the people of the city of Sderot, Hatomim Avrohom Binyomin, Mendy Benshimon, Mendy Halperin, and Dovid Nochum Kaye from Sydney Australia.
More pictures in the Extended Article!

The Bochurim worked very hard to bring encouragement to the locals by hearing their stories, assisting many to put on Teffilin, joining them in song and dance and helping the local Chabad House of Sderot to pack many hundreds of Mishloach Manot for the people of Sderot.
Many locals thanked the boys and Chabad for their joy and encouragement in these very difficult times.