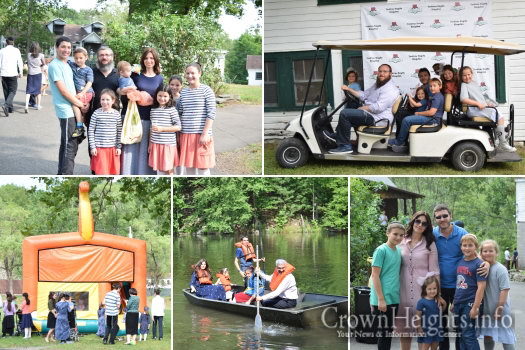 This past Sunday, many parents came to enjoy Visiting Day with their sons in Yeshivas Kayitz Kingston, an affiliate of Oholei Torah.
Special activities were prepared for the day, including a moon bounce and an obstacle course activity for the younger children, canoe boats on the campgrounds lake and plenty of shaded seating areas for the parents to spend time with their sons. A well-designed map of the grounds and building were given to each parent, which helped them familiarize themselves with the various buildings and areas on the grounds.
A fleet of golf carts with drivers were available to give the parents tours of the 120 acres of camp grounds.
Many parents marveled at the beauty and upkeep of the camp grounds, as well as how organized the camp is run, under the leadership of Rabbi Yisroel Levertov, Director, Rabbi Moshe Silman, Mashpia, Levik Fogelman, Assistant Director, and Chezkie Robbins, Office Manager. Rabbi Levertov said he is fortunate to have many of his staff continue their key roles in camp for a number of years, which greatly adds to the stability and well organized camp program.
One parent commented, "Even though it is one of the fairly newer camp option for my sons grade, it far surpasses my other experiences with my others sons so far"
The staff was also onsite and greeted the parents as well. From the 8th grade division was Yossi Lasker, Head Counselor and Mendy Marinovsky, Learning Director, and from the Mesivta division Rabbi Moshe Silman, Maggid Shiur and Mashpia, and Yigal Begun, Head Counselor.