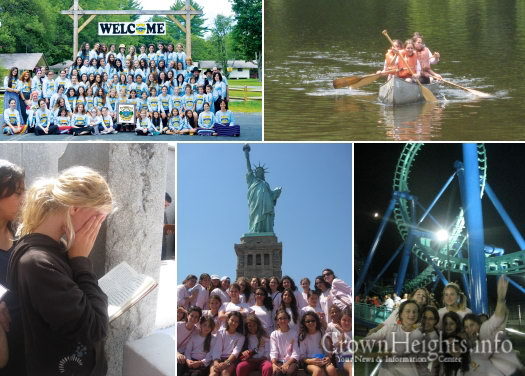 An hour and a half outside of New York City, over mountain peaks and cruising through winding valley roads in the soul of the Poconos, it seems quiet. Driving closer, you can hear laughter sounding over the rush of a waterfall and heartfelt singing, nearly as moving as the surrounding scenery.
There is a large group of girls at the road waving enthusiastically, waiting to greet their friends back to the place that feels like home. Enveloped by nature and spread across a sprawling 83-acre campus, this magical place is Camp Gan Israel in the Poconos, a Chabad girls overnight camp designed to inspire and enrich young girls in a Jewish setting. One camper says Gan Israel encourages 'gigantic Jewish Pride'. And she has a point.
The first of its kind, it was a dream thought up by two educators with a desire to spark that Jewish pride in a safe and welcoming environment. Director, Rabbi Gershon Sandler, and his wife, Devorah, established the overnight camp six years ago after leading Camp Gan Israel in Runnings Springs, California from 2005-2008. It began as a retreat for girls entering into a new stage and was called, 'The Bat Mitzvah Experience' or 'B-Me' (a play on the words, 'Free to Be Me), a program focused on teaching young girls about becoming Jewish women and was something of an experiment.
"We didn't know what to expect," he says. But, when so many families expressed interest that first summer, Rabbi Sandler  knew he was onto something. "This camp was and still is, a rare opportunity for girls to build on their Chabad education regardless of their background or where they come from," he shares. "Now that's unique." Six years later, Rabbi Sandler is still focused on perfecting the program and encouraging new campers to join. On the camp website, various payment options are available to ensure no girl is left behind. The dedicated staff members, exciting activities, and new friendships have campers excited about camp each summer.
Gan Israel is about "showing the campers what being Jewish is really about," Sandler enthuses. Day camp is great too, but an overnight camp allows for that constant momentum in which girls can truly thrive without secular distractions. Rabbi Sandler looks to a quote from the Lubavitcher Rebbe who famously said, "It's obvious that summer overnight camp has a greater impact than the impact that school has." At CGI in the Poconos, that impact is felt on a daily basis. It's in the way the counselors treat their campers, the sisterhood formed between the girls, and in the very honest and humble way the Sandlers run their program.
The campers at CGI couldn't agree more. "Camp Gan Israel is different", one thoughtful girl remarks on the camp video. "Each year my inspiration to be proud that I am a Jew has grown larger," says another young camper from California.
The camp now accepts application from girls aged 9-15 (grades 3rd-8th) and are separated by age group. The 3rd and 4th graders are part of the pre B-Me group, while 5th and 6th graders are in the B-Me division, and 7th and 8th graders are part of the Pioneer program.
And no distance is too far. Young girls travel from Budapest, New Jersey, Florida, and all over the world, to experience the camp for themselves. Most return the following summer and continue to come back, excited to reignite friendships and participate in Jewish experiences.  Meeting girls from across the globe and establishing that connection in a no-judgement zone is what drives Gan Israel and keeps these campers wanting to come back. "We're a whole family!" one smiling girl explains in the camp video. "I love everything about this camp," says another. And it's easy to see why.
A beautiful campus equipped with a tennis court, basketball court, swimming pool, ziplining area, rock wall, archery, and the list goes on – the activities are endless and the days jam-packed. There is dancing, singing, inspiring shabbos meals, and an enormous sense of Jewish heritage bonding these girls together and reassuring them that they are part of something greater than themselves. A favorite activity among the campers, is canoeing down the Delaware River and a day at an amusement park, while a famous CGI 'Jewish Pride' trip sends the girls to New York to visit the Ohel and to explore Crown Heights, a highlight of the summer.
Parents and Chabad shluchim alike, are enthusiastic when asked about camp. "We really love the camp," Beth Lugo from Miami says. Her daughter is now looking forward to the summer and can't wait for all of the "amazing activities." Over 70 shluchim have girls from their own Chabad houses attending camp each summer, and feel it not only encourages the girls to embrace Yiddishkeit for a summer, but that it creates a real change that lasts throughout the year.
A testimonial recorded by a camper named Sonya, shares a similar sentiment. "I remember thinking to myself, this is like no other camp I've ever been to before," she recalls. "I loved learning about ways that I could make a difference," she says.
The Sandlers continue to make a difference. CGI in the Poconos is a program that impacts the lives of so many and each new year is memorable. These girls leave home every summer excited about learning new Jewish concepts, building new friendships, and rebuilding on their own Jewish knowledge. And that's meaningful and gratifying.
It is exactly what Rabbi Sandler had in mind all those years ago when he thought about creating a camp like CGI. It's like Sonya says after her first CGI experience,  "We were all Jewish and we were proud of that." It's a feeling that has girls counting down the days until the summer begins.