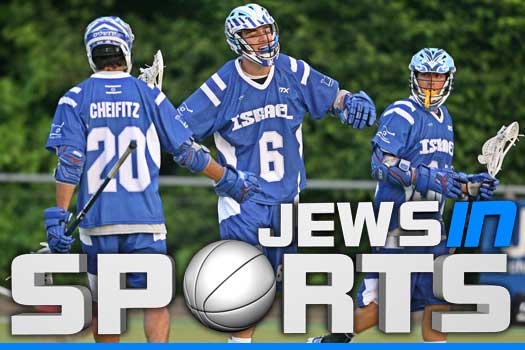 Israel's National Lacrosse team has a full plate to chew on over the summer months. After posting a solid effort in its first-ever international win – a 13-9 victory over Turkey in Istanbul last June – the Blue-and-White are gearing towards their first open tryout from August 14-18 on their home turf.
"We're excited for the opportunity to evaluate new players and prepare for Denver with real game action," explains Israel's head coach Bill Beroza. Israel Lacrosse is thrilled to showcase the sport after its first-ever home international that took place on July 4 in Ashkelon, Israel.
The Stars-of-David kicked off their summer world-tour at Ashkelon's Municipal Stadium with their friendly against Turkey last Thursday. Since Israel only became a FIL member nation two years ago, some see this summer as a litmus test for lacrosse's survival in Israel.
"We believe the national programs can fuel our developmental efforts to grow the sport here in Israel," notes Israel Lacrosse Director, Scott Neiss. "Our goal is to field a men's team in 2014 and for every FIL competition thereafter."
In addition to the Republic of Turkey, Israel will take on the Iroquois Nationals – ranked top-five in the world – on August 17 in Baltimore, MD., and the Philippines the following day in the same locale.
Although the Philippines are not currently an FIL member, it has played against stiff competition in South America, and can produce problems for Team Israel, especially on defense.
One position where the Israelis shouldn't have much worry for is at forward with Matt Cherry.
The Dickinson graduate and occasional Israel Team National Lacrosse player, was a firstteam All-American, and broke his school record for assists, becoming the first Red Devil to surpass the century mark. After notching 60 goals this past year, Cherry now ranks sixth all-time in career points.
Israel has not yet announced its roster for the August matches, but will do so following the official national team tryouts held at Netanya's Wingate Institue.
The 2014 Federation of International Lacrosse (FIL) Men's World Championship will be held in Denver, Colorado at Dick's Sporting Goods Park, home of Major League Soccer's Colorado Rapids.
Yossi Goldstein hosts the weekly sports-talk radio show, "Sports Talk With The Sports Rabbi," every Thursday from 5-6pm on www.allnoiseradio.com.