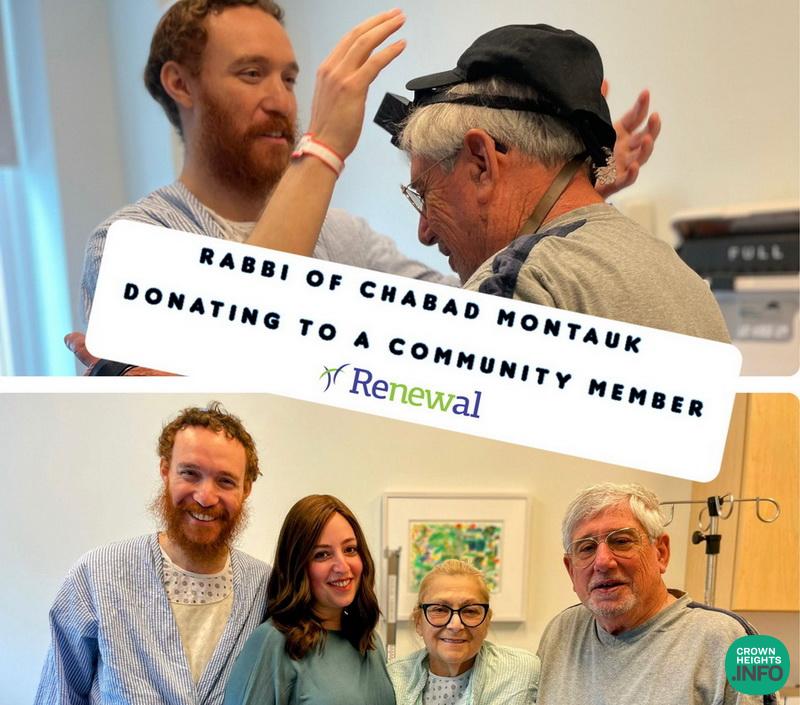 Chabad Shliach To The Hamptons Does A Different Type of Chesed, Donates Kidney To A Member of His Congregation
by CrownHeights.info
Rabbi Aizik Baumgarten is the Chabad Shliach to Montauk, NY, an area of the Hamptons that has it's fair share of Jews, and chesed for a Rabbi to do. Still, Rabbi Aizik eclipsed many other forms of Chesed by donating something extremely special, one of his kidneys.
In a procedure facilitated by Renewal,, Rabbi Aizik donated one of his kidneys to a member of his congregation, a woman who has known him and his wife Musia for eleven years.
"Today's kidney donor, a devoted Chabad Rabbi in the Hamptons, selflessly devotes his days to tending to the spiritual well-being of his community," Renewal wrote in a Press Release. "When a member of his congregation found herself in desperate need of a life-saving kidney, she turned to their trusted Rabbi for guidance and support."
With unwavering compassion, Rabbi Aizik connected his congregant with Renewal, and astonishingly, it turned out that the Rabbi himself was the perfect match.
"Despite the bustling nature of the Hamptons' summer season, he didn't hesitate for a moment to offer the gift of life just as his busiest period began," Renewal wrote. "The recipient, overwhelmed with gratitude, had been on the verge of starting dialysis when a phone call from Renewal brought unimaginable news: her beloved Rabbi was the one who had selflessly stepped forward to offer her a second chance at life."
In a video released by Renewal, the the Rabbi and recipient expressed their happiness at the Hasgacha Pratis that allowed this Mitzvah to take place. And not missing a single opportunity, Rabbi Aizik wrapped Tefillin on the recipients husband, adding another Mitzvah to the days list.