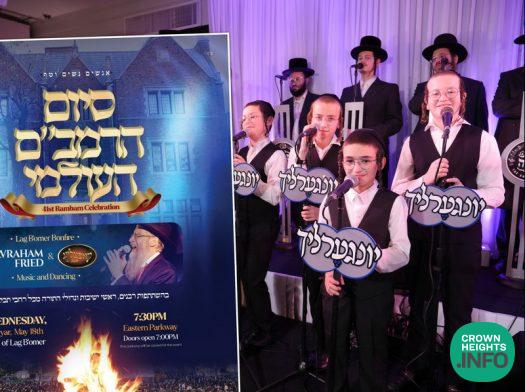 Rashbi and Rambam – Joint Celebration Not to Coincide Again for 300 Cycles
The final preparations for the historic Siyum HaRambam HaOlami are in full swing. The NYPD is getting ready to close off Eastern Parkway for the grand event, celebrating the conclusion of the 41st cycle and the beginning of the 42nd cycle of daily Rambam study, combined with traditional Lag BaOmer festivities.
This joint celebration of Rambam and Rashbi was marvelously addressed by the Rebbe during the farbrengen of Lag BaOmer 5745. The Rebbe devoted a large portion of the farbrengen to discuss the parallels between Rashbi and the Rambam, as well as the great importance of holding a Siyum upon concluding the entire Rambam.
The tens of thousands of Rambam learners worldwide view the above farbrengen as addressing this year's Siyum in particular. This is the first time that the Siyum coincides with the eve of Lag BaOmer, and according to the schedule, this won't be repeated for around another 300 cycles — certainly well into the days of Moshiach.
This fantastic discovery gave birth to a study campaign focusing on the farbrengen. Over 15 yeshivos participated in learning the entire farbrengen in preparation for this year's Siyum, and raffles will be held amongst the bochurim who successfully passed tests on the content of the sichos.
As the day of the Siyum draws near, a large team is working around the clock, ensuring that every detail of the grand event is taken care of and allowing for a seamless experience. Here and there, the activists from the Vaad Siyum HaRambam provide glimpses of the impressive program being planned.
In line with annual tradition, prominent rabbonim will address the crowd in honor of the Siyum and in honor of the Rebbe who initiated the daily study.
"We make a celebration for the completion of Torah," as the Rebbe emphasized by the farbrengen of Lag BaOmer 5745. As the evening of Lag BaOmer is ushered in, there will be joyous music and dancing with singer Avraham Fried and the Kapelle choir of Yossi Cohen.
A fresh innovation in this year's program includes the famous Yingerlich Boys Choir, who will perform in Crown Heights for the first time in honor of the Siyum.
As usual, a beautiful study schedule for the forty-second cycle has been printed and will be distributed by the event.
The organizers look forward to the grand celebration of Rambam and Rashbi, and fervently hope that the event will lead to increased enthusiasm in everything related to the study of Rambam.
The Rebbe noted by the farbrengen in 5745 that the tumult surrounding the Siyum celebrations brings addition people to join the daily study, and this was apparent, Boruch Hashem, after last year's Siyum, when many were inspired to join the study cycles.