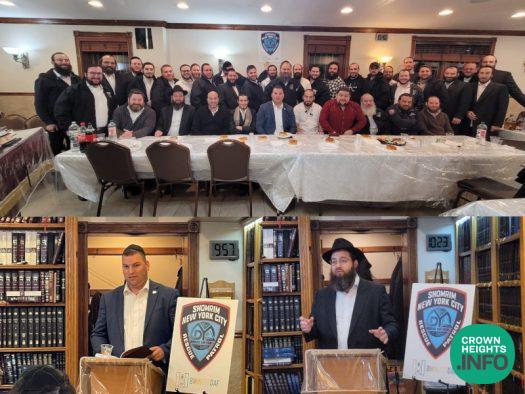 Shomrim of All Neighborhoods Celebrate Collaborative Melava Malka and Siyum on Maseches Taanis
by CrownHeights.info
Shomrim volunteers from chapters across Brooklyn came together in Crown Heights Motzei Shabbos for an event marking a volunteer's first siyum.
Crown Heights Shomrim volunteer Shmuel Gillig stood up to the podium at the Rayim Ahuvim Shul in Crown Heights and made a siyum on Meseches Taanis, his first siyum on a mesechta.
The crowd was addressed by the Master of Ceremony R'Shloime Klein, who spoke on the impact each and every person can have on this generation, and many generations to come, with just one positive interaction.
Rabbi Mendy Hershkop, a Crown Heights Rabbi and Shomrim Coordinator, also addressed the attendees, speaking on the job Shomrim volunteers do, and its roots in Jewish leadership since the days of Moshe Rabbeinu.
The event was sponsored by volunteers from the various chapters of Shomrim.